If you've seen any of the rainbow mountains of Peru in photos (Pallay Punchu or Ausangate Rainbow Mountain), you'll know that they look spectacular and look like nowhere else on Earth. Natural minerals in the earth in the zone have created different shades and influenced the names.
There are three well-known mountains now, but today we're going to talk about two of them and compare them to help you decide which one you'd prefer to visit. However, if you have time, we recommend trying them both.
In this article, we look at Pallay Punchu and Ausangate Rainbow Mountain, which is better known as Vinicunca. We'll look at the ways in which they differ as well as some similarities. You'll also learn what to take in your daypack as well as a few recommendations from us. All this information will help you decide which is best for you.
Is a Trek to a Rainbow Mountain Worth It?
If you're still in doubt and not sure if you want to add any of the rainbow mountains to your itinerary, we strongly suggest you do. It's not without reason that they're rapidly growing in popularity and being added to many people's bucket list.
The trips only take a day, so you don't need a lot of free time, and you won't regret it. You get to witness a landscape that you'll likely only see once in your lifetime and capture some photos to remember it forever. You also get to see some typical Andean flora and fauna and enjoy some food from the region. This is a day trip you shouldn't miss out on when in Cusco.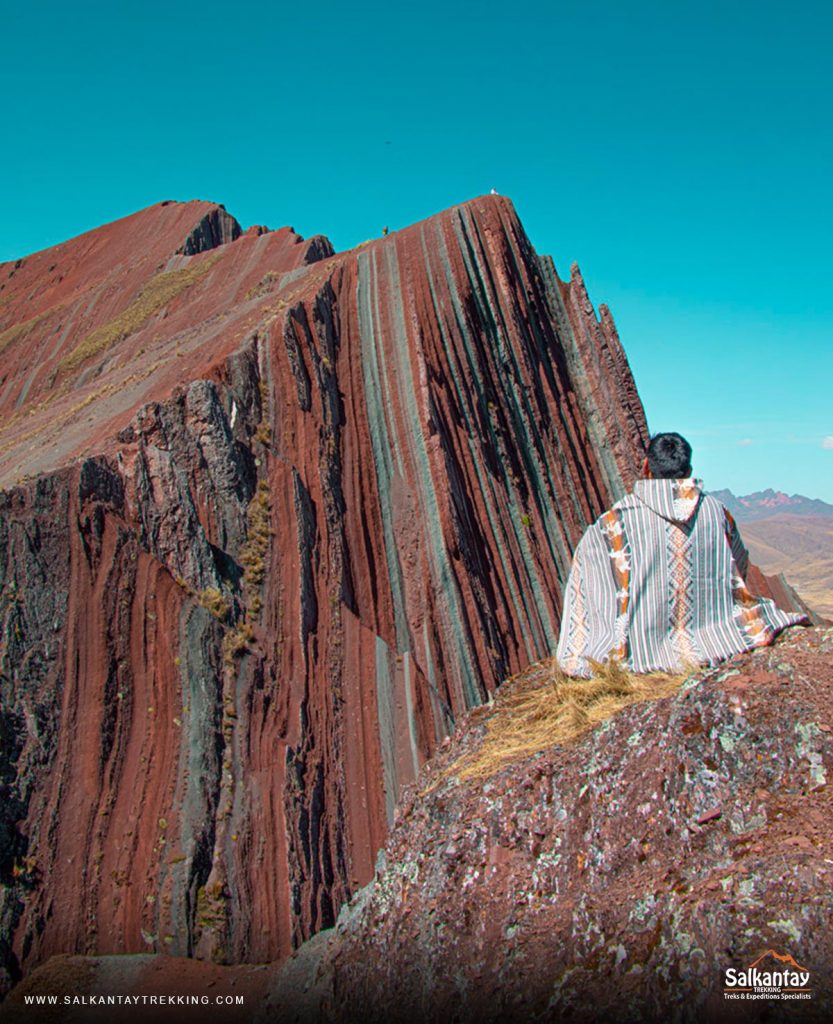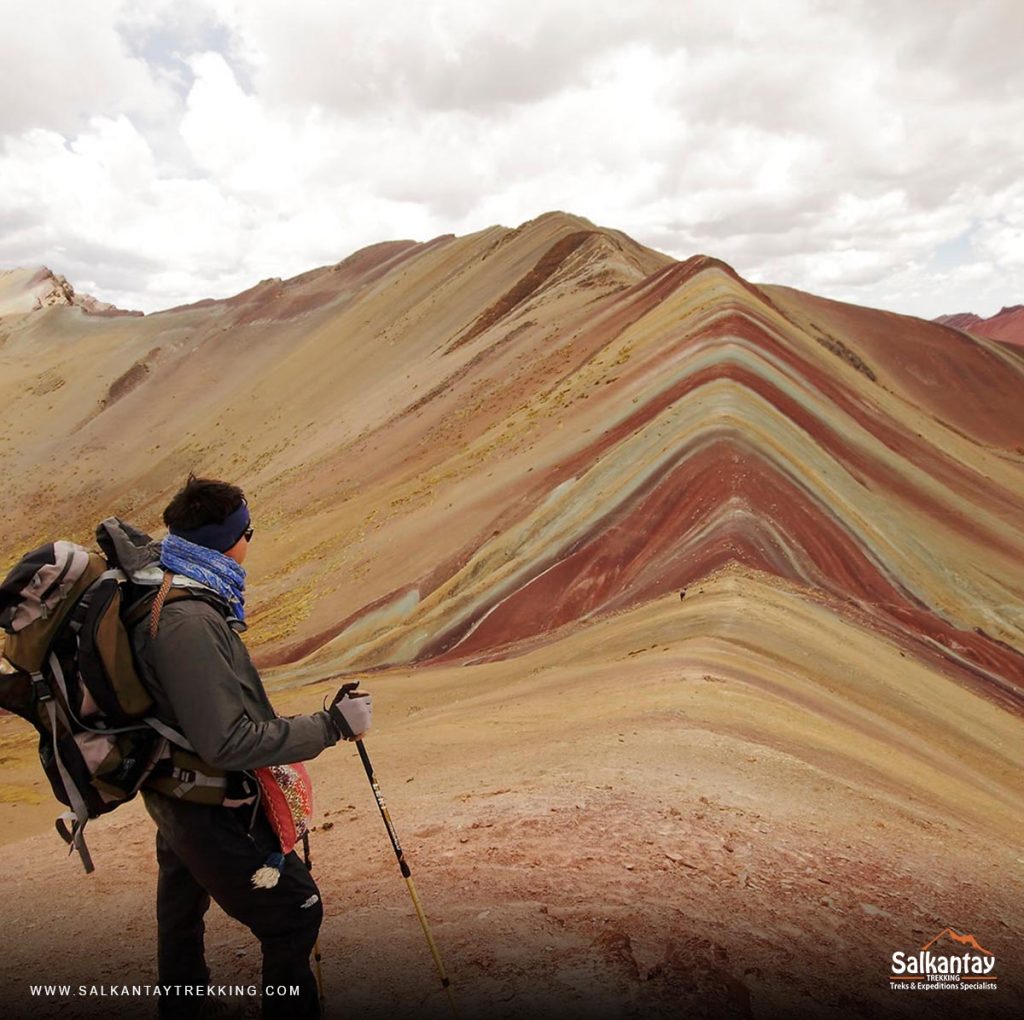 The Differences Pallay Punchu and Ausangate Rainbow Mountain
Now let's explore further how the mountains differ.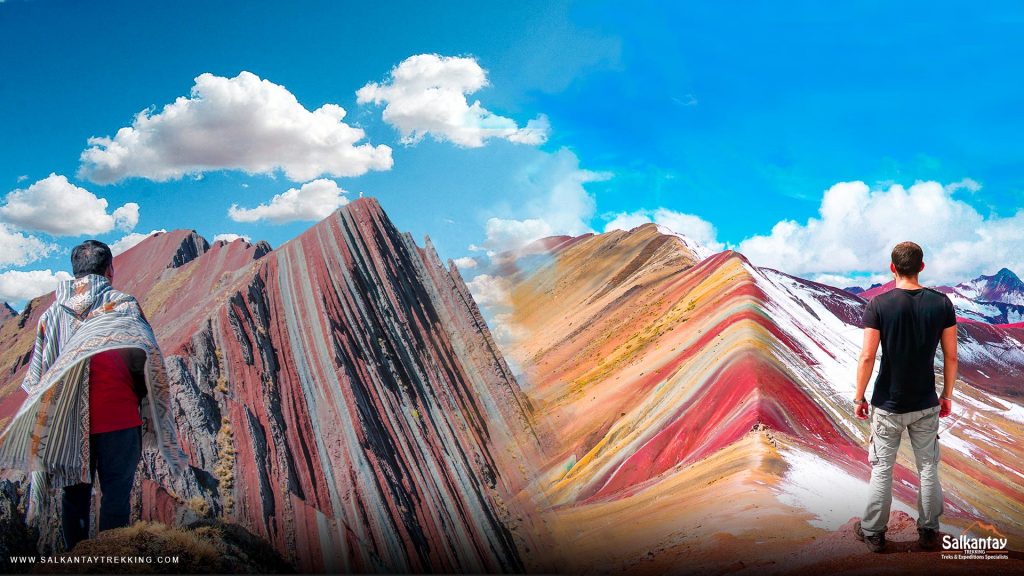 Difficulty
For both of these hikes, you need to walk uphill for a majority of the way up. This makes both of them challenging as you're going to be at high altitude, and this makes it much tougher to walk for long periods.
The only thing that might make Vinicunca a little more difficult is the fact that you're going to heading up higher than at Pallay Punchu, however, at the latter it usually takes a little longer to hike up. Other than that, you'll find the terrain similar on both treks.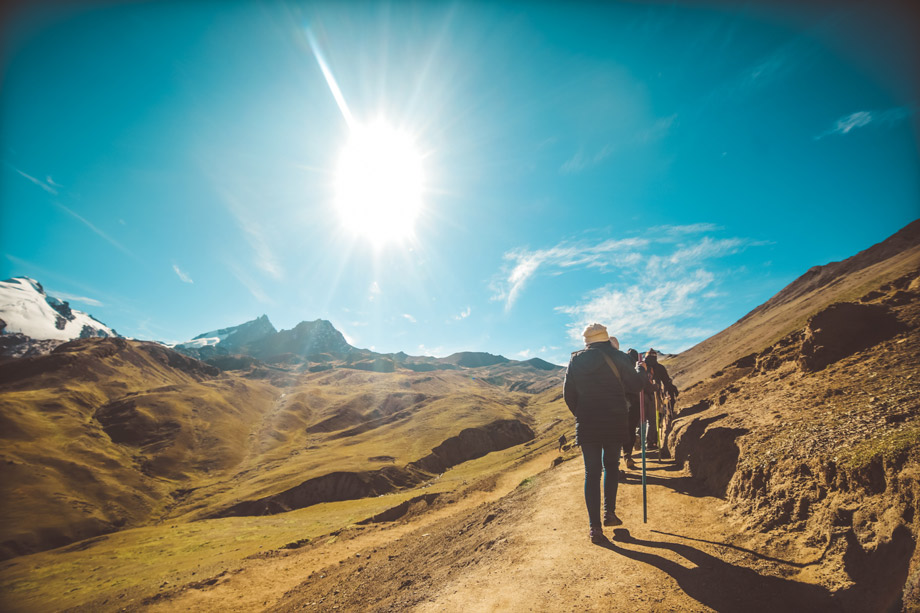 Popularity
This is one of the bigger differences and might make your decision a little easier. If you're looking to visit one of the more famous spots in Peru right now and enjoy taking photos at popular locations, then you should choose Vinicunca. It receives a lot of visitors each day and you'll see plenty of other people along the way.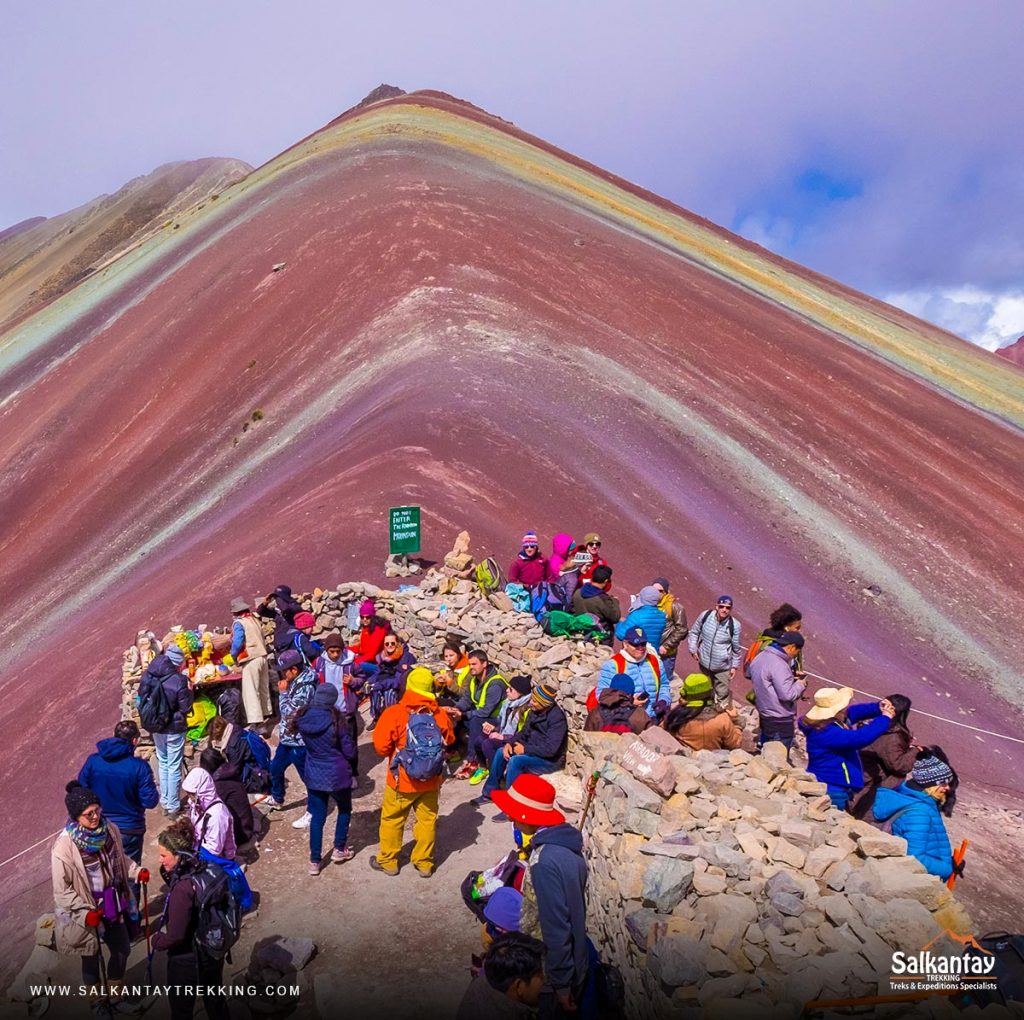 Pallay Punchu, on the other hand, is what you might consider an off-the-beaten trek as it's far less popular and doesn't get anywhere near as many visitors. This doesn't make it any less spectacular, though. Vinicunca was the first to become well-known, making it a more common place to visit.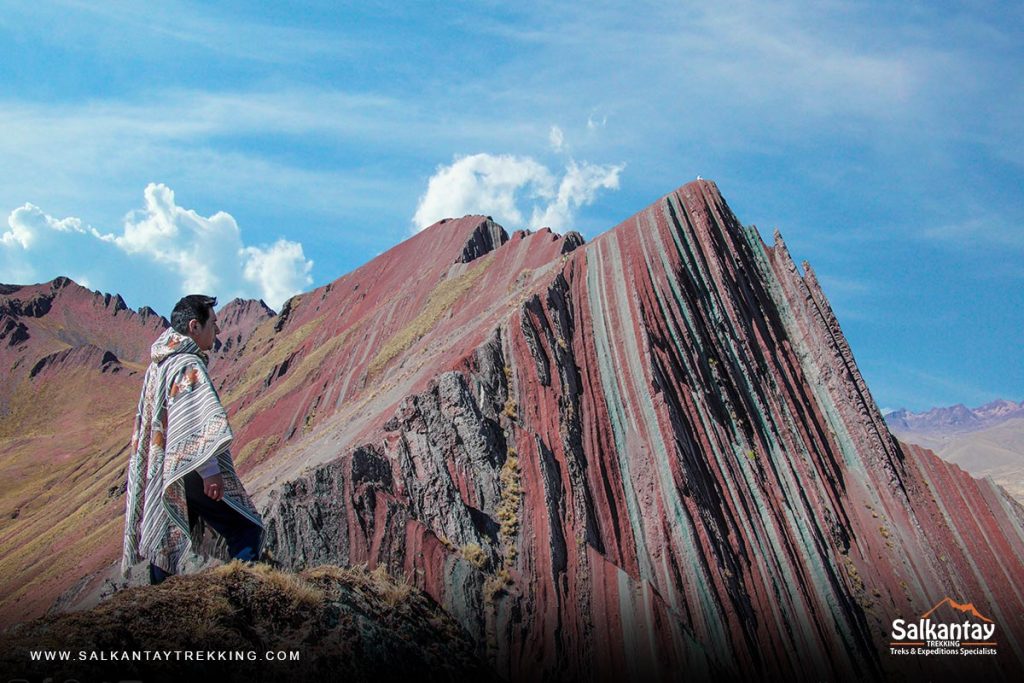 Altitude
This is something you may also want to consider if you know how you react to being at high altitude. It could also be a decider if you book once in Cusco and know how you feel. At Vinicunca you'll be heading up to a big 5,200 masl, whereas at Pallay Punchu, the maximum you reach is 4,700 masl.
It might seem like a small difference, but when you get this high up, it can be significant. All will depend on your body and how much you think or know you can handle comfortably.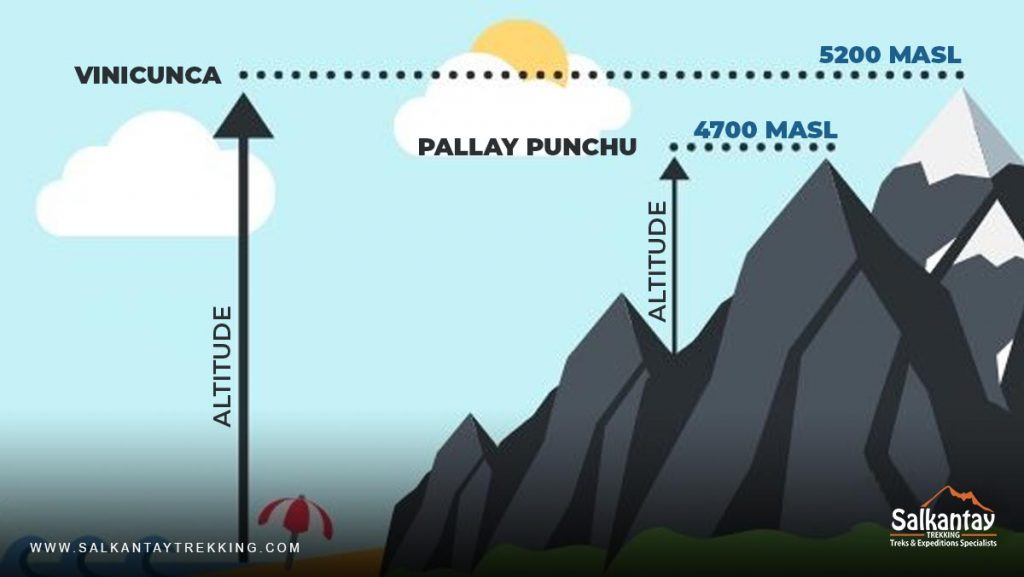 Distance/Time
Both treks are a few hours drive from the city of Cusco, but Pallay Punchu is slightly further. This might affect your final decision if you want to spend a few more minutes in bed in the morning or want to get back to the city earlier.
You'll also find that the hike up is very similar in the distance on both treks, however, Pallay Punchu could possibly take a little longer. So, Pallay Punchu is going to take slightly longer to get to and to hike than Vincunca; if time is of the essence, perhaps choose the latter.
Landscape/Experience
On either trek, you get to see the spectacular colors that nature has formed in the rocks. This is because of the minerals found in the earth, which include clay, magnesium, and sandstone. One big difference is the formation of the mountains. Vincunca boasts an impressive triangular shape when you look at it face on. Pallay Punchu resembles a poncho and is how it got its name due to the shape and color.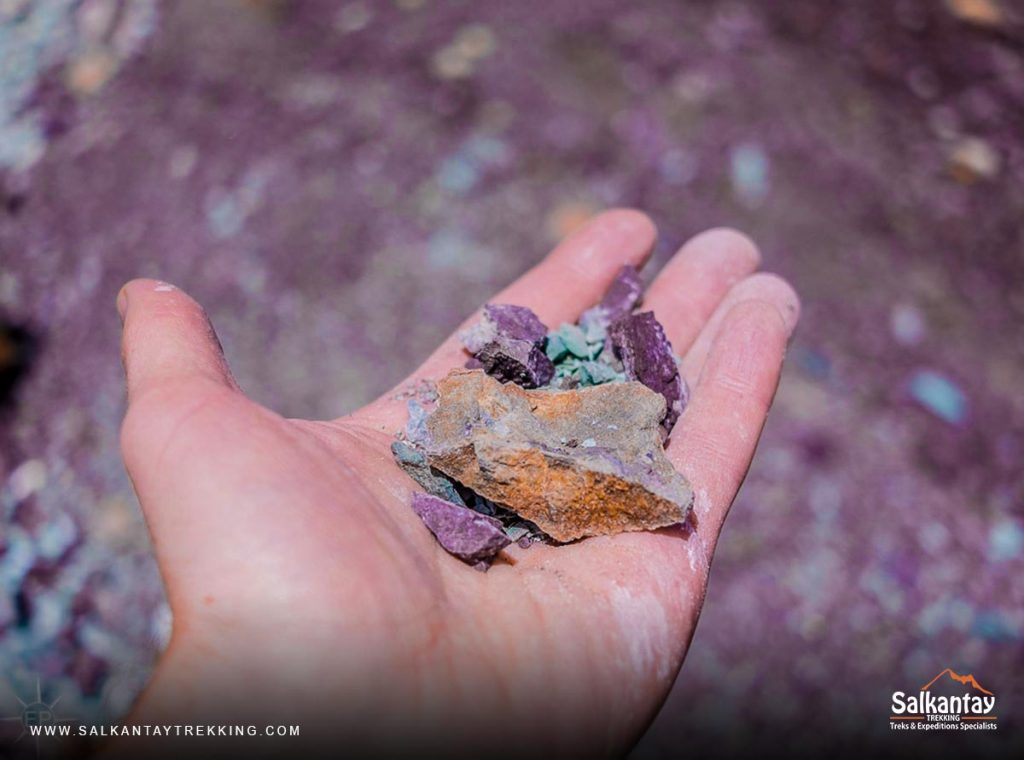 Another part of the landscape that differs is that you get the chance to see the Red Valley at Vinicunca, which can be an added experience. It almost looks like you're on the planet Mars. You can also see the Mountain Ausangate in the distance. At Pallay Punchu you get to see the impressive dark waters of the Langui-Layo Lagoon.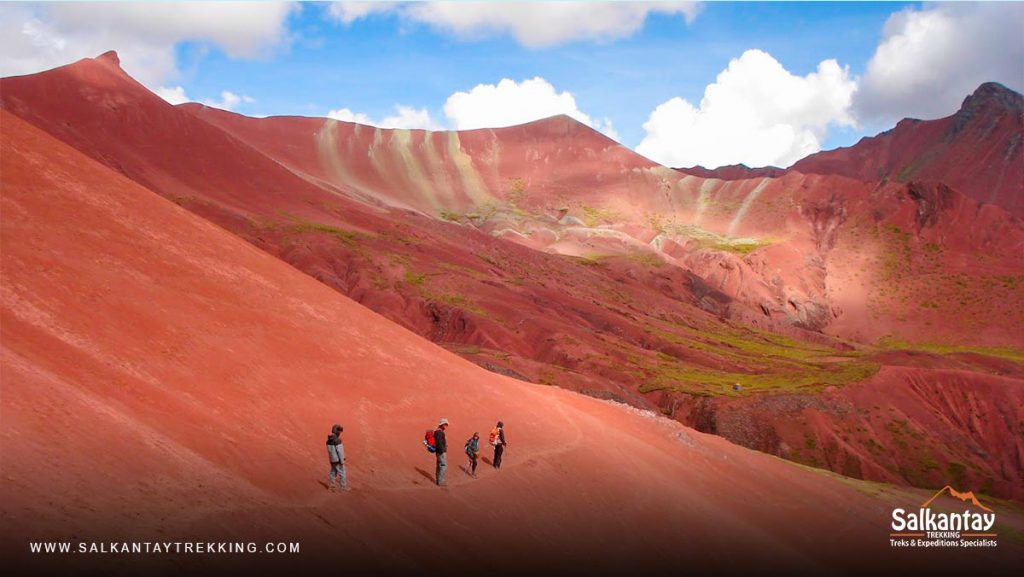 If you're looking for an experience where you see more of rural Andean life and can observe how people go about their lives in these far corners, then Pallay Punchu is the better option. You don't see as much of this when you go to Vinicunca.
Weather
You'll find that the climate in both locations is relatively similar. You'll feel the chill when you get to the top of either due to the altitude. The sun will also feel strong as you're so high up.
Weather in Cusco can be unpredictable, so you never know when it might rain, or even snow! The main difference is that at Vinicunca it'll feel a bit colder due to the altitude and the fact that it's very close to Ausangate Mountain, which is why it's sometimes known as Ausangate Rainbow Mountain.
Comparison Table: Pallay Punchu and Ausangate Rainbow Mountain
| | | |
| --- | --- | --- |
| Comparison | Vinicunca Rainbow Mountain | Pallay Punchu Rainbow Mountain |
| Altitude | 5,200 masl | 4,700 masl |
| Difficulty | Hard | Easy |
| Popularity | Very popular, big crowds highly likely. | Off the beaten path, not many visitors. |
| Duration | 2-hour hike up | 2-hour hike up |
| Landscape/Experience | Ausangate mountain in the distance, option to trek Red Valley. | A deep, dark lagoon and the chance to see locals working on the land. |
| Weather | Can get very cold. | Cold, but not freezing. |
Things to Keep in Mind
When organizing a trip, you want to take all factors into consideration to make sure you're well-prepared and don't up against any obstacles along the way. Below are a few things to consider when booking your trip.
The Altitude
One of the biggest challenges during either trek is going to be the altitude. You're going to be heading up very high and it can make you feel tired out and sometimes sick. It's common to get headaches and it's something you should prepare for.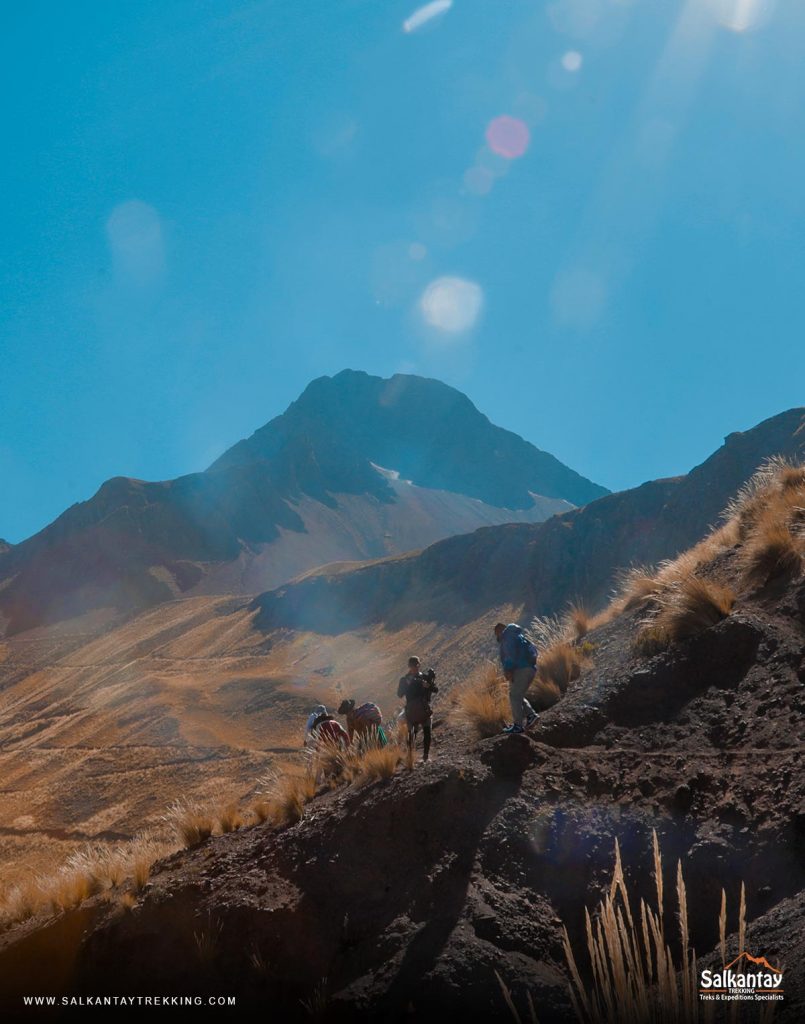 Failure to take the right precautions could mean that you're too sick to go on the trek or feel ill halfway through and don't make it to the top, therefore missing out on the main event. Here are a few things you can do to help with the effects of being up so high.
Arrive in Cusco 2-3 days before the trek. This way your body will acclimate properly.
Drink coca or muna tea and try some coca and muna candy. These ingredients have been used since Inca times.
Speak to a doctor back home before you come to see if they can give you any medication to help.
Take it easy when you first arrive and don't overdo it.
Don't drink alcohol or smoke, as these can make the effects far worse.
Invest in a can of oxygen that you can find in many pharmacies.
Get Some Practice In
Before you come to Cusco for the trek, make sure you've been on plenty of day hikes back home. This will get your body mentally and physically ready for what's ahead. You should make sure these day trips include hiking uphill, as this will be hard on your muscles if you aren't ready for it.
Stay Hydrated
Drinking enough water is essential. You can get easily dehydrated due to the high altitude and beating sun, which can make you feel ill fast. Be sure to take a bottle or Camelbak to keep you topped up along the way.
Snack Along the Way
Just as important as the water is food to keep your energy levels up. You'll be provided with breakfast and lunch if you go with a tour operator, but it's still a good idea to take chocolate, nuts, energy bars, and dried fruit to give you short bursts of energy when needed.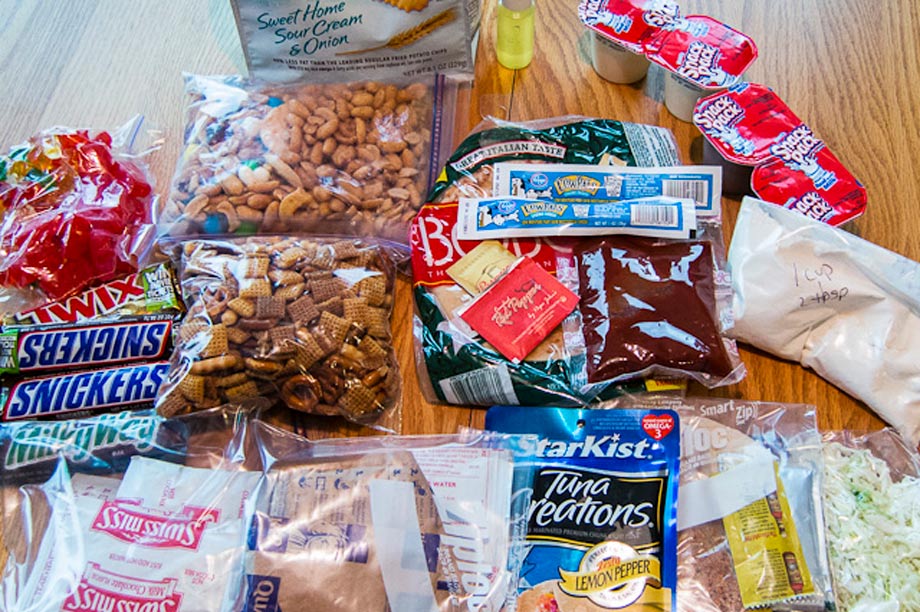 Inform the Tour Operator of Any Allergies
As you'll be getting food along the way from the company, you'll need to let them know ahead of time if you have any allergies or dietary preferences. If not, you might not be able to eat a lot of things, and being hungry is the last thing you want when you're going to exert your body. When they know in advance they can make sure you have plenty to eat.
When and How to Book
You may want to look into the best time of year to travel to Cusco and hike the mountains. It's available all year round, but May to October is the dry season, so the paths are dry and you can expect a lot of sun. This does make it colder at the top, however.
The other months are in the rainy season, which can make the trails a little slippery. However, it can be done with adequate footwear. You'll have more chance of rain, though, and perhaps even snow, which could affect the view you get.
When it comes to how you book, doing it online in advance is the best way to avoid the disappointment of there being no space or trip available on the day you want to go. You can reserve your space once in Cusco too, though. This just means you might need to more flexible with your hike date or be prepared to accept there are no spaces.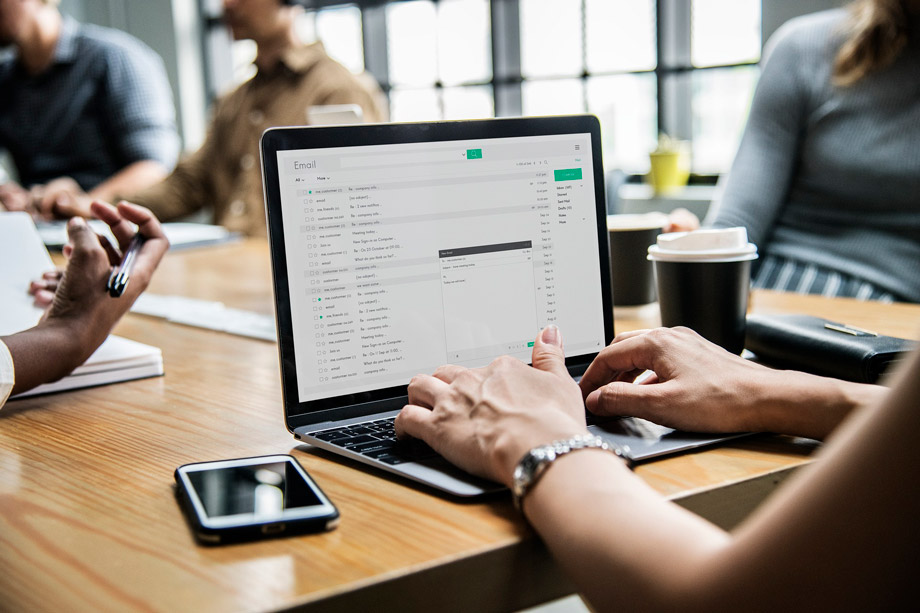 Respect Local Rules and Regulations
As with anywhere new that you travel, you must respect the locals and how they go about things. Be open-minded and understand that they come from a different background and will likely see things differently from you.
Respect their privacy and be careful when taking pictures. It's always best to ask if it's ok to get a snap of someone. Drones are usually not allowed as well, so ask at the entrance if you can use one.
Packing List for Pallay Punchu or Ausangate Rainbow Mountain
Being prepared with suitable clothing and extras you may need during the day means you can enjoy yourself and not worry if you've forgotten something. Make sure you take a day pack and consider wearing or packing the following:
Waterproof and windproof jacket/poncho (It can get very windy and rain or even snow on these routes)
Warm sweater/thermals
Warm socks
Comfortable pants
Long-sleeved t-shirt (Layers are good to take on and off depending on how you feel)
Woolly hat and gloves
Comfy walking boots/shoes
Trekking poles (optional; depends if you like to use them or not)
Sun hat
Sunscreen
Sunglasses
Toilet paper (in case you need it)
Plenty of water
Snacks
High-quality camera/phone
Cash for snacks/water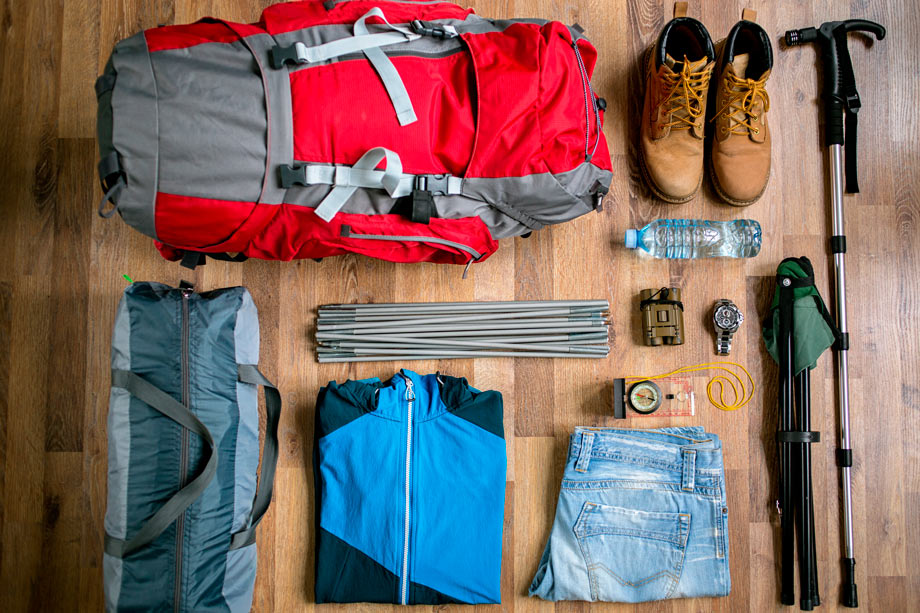 It's Up to You Pallay Punchu or Ausangate Rainbow Mountain
Now you know the main differences between the two mountains, you should be able to make up your mind. Vinicunca is the more popular site and also has the option to hike the red Valley and see Ausangate Mountain.
Pallay Punchu offers you a glimpse into the lives of the locals and also the chance to see an impressive lagoon. If you have the time, we recommend you visit both sites, as they each have something unique to offer. In the end, it's your choice, and we're sure that whichever one you opt for, you'll have an amazing experience to cherish for a lifetime.
---
---
You might also like
---