Peru has some of the most incredible landscapes on our glorious planet, and some of the most impressive is the rainbow mountains in Cusco.
The first to be 'discovered' was Vinicunca, also known as Rainbow Mountain, whose iconic image is spread all over the internet and attracts thousands of tourists each year. It wasn't alone, though.
Since then, two other mountains have come to the attention of locals and then the rest of the world. These are the rainbow mountains in Palccoyo and another named Pallay Punchu.
Each mountain is just as impressive as the other and they all offer a little something different. In this article, we'll provide you with a description of each and tell you the best route to take to the rainbow mountains of Peru. You can use the information to help you decide which to visit or plan how you'll get to them.
Vinicunca
Highlights
See the most famous rainbow mountain in Peru.
Observe the stunning landscapes.
Witness unique Andean wildlife.
Visit the Red Valley, which is like stepping foot on Mars.
Overview
This is the most popular of all the rainbow mountains and is the most impressive. It towers over you when you get up close and is truly stunning. The hike is tough as there's a steep ascent up to 5,200 masl, so the altitude will also have a big effect.
You'll see wildlife along the way, like llamas and alpacas, and also the astounding rolling hills. When you visit Vinicunca, you also get the chance to add on a trip to the Mars-like Red Valley, which is an excellent sight to see indeed.
You can visit this mountain with a tour group or alone. You need to wake up around 3 am if you want to beat the big crowds. You need to begin by making your way from Cusco to a small village called Cusipata, which takes around 2 hours.
From here, you need to get to Pampachiri. If you go with a tour group all transport will be included, but by yourself, you'll need to find separate vehicles to each place.
At the community, you'll need to buy your ticket if you haven't already, and will then start the three and a half hour round trip to Vinicunca and back. You should only spend around 30-45 minutes at the top to make sure you get back down to the vehicles before it's too late.
Extra Note: You can also visit the Vinicunca rainbow mountain on one of the Ausangate trek routes. When you do this, you arrive before all the other tourists and get a fantastic private view.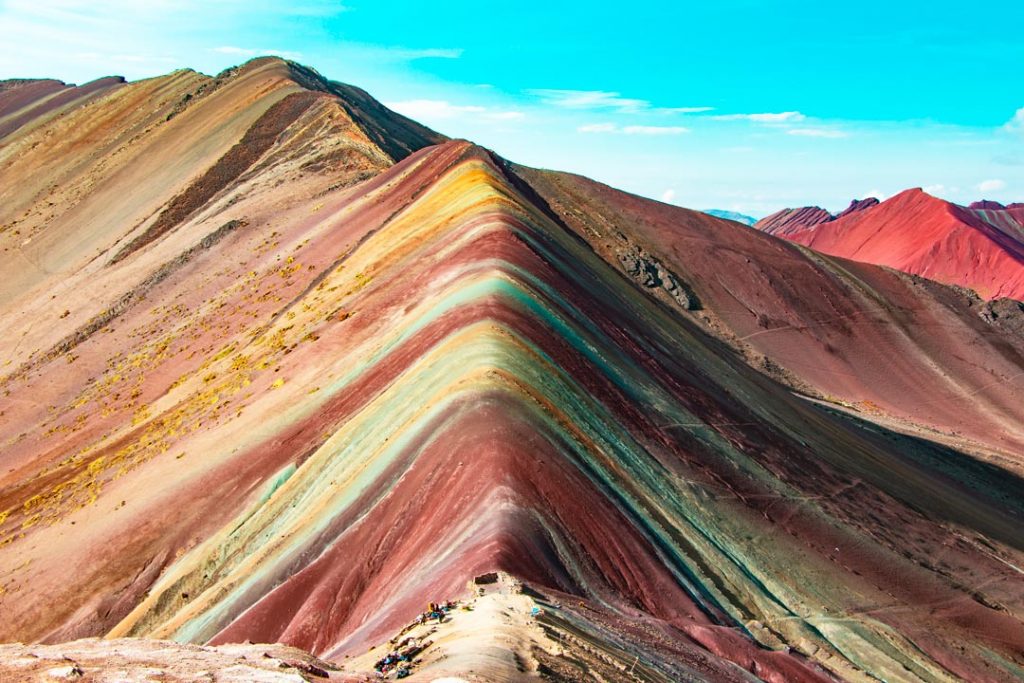 Palccoyo
Highlights
Get to see more than one outstanding rainbow mountain.
Visit the Checacupe bridge.
Enjoy an off-the-beaten-path route.
Take a more relaxing hike along a flat route that a person of any fitness level can complete.
Observe flora and fauna only found in the Andean mountains.
Overview
This is a far less-visited rainbow mountain and you'll likely only see 20 or 30 other people all day. If you like to avoid crowds, this is an excellent option. You'll also get a fantastic view of not one, but various rainbow-colored mountains.
Along the hike, you'll see small villages, Andean wildlife, and some incredible scenery. The hike itself is relatively easy to complete as most of the trail is flat. You'll be heading up to 4,900 masl and the duration of the walk there and back is an hour and a half.
The Best Route to Palccoyo
You can also visit this mountain by yourself or with a tour. Whichever way you do it, you'll likely follow the most common and best route. After getting up early, you'll need to board transport that takes you to the district of Combapata. Before you get to the village, you have to turn left at the Checacupe bridge.
The same car will then take you another hour and a half to a car park from where you'll start the 40-50 minute walk to the mountain. People of any fitness level can enjoy this hike as it's short and flat. Once you've spent all the time you want at the top, it's time to head back to the vehicle.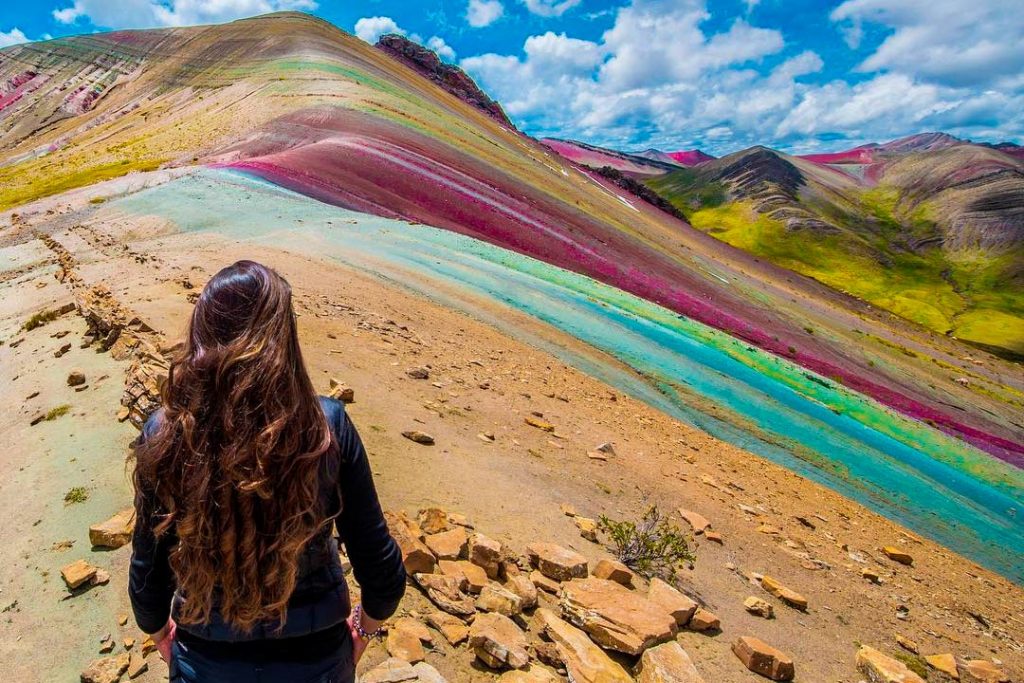 Highlights
Head away from the crowds on this virgin route in the Andes.
See a stunning mountain in the form of a colorful poncho.
Take a route that's unseen by many tourists.
Capture incredible photos of this unique landscape.
Overview
This wonderful mountain is visited by very few tourists and is truly breathtaking. It really looks like one of the beautiful ponchos that the Andean people are often seen wearing, which is why it also has this intriguing name.
On this hike, you'll reach 4,700 masl and there are a few difficult stretches. You'll get to see some stunning parts of the Andes, including the mysterious Langui-Layo Lagoon, sharp mountains, and valleys of red earth. Once again, you can go by yourself or with a tour operator.
The Best Route to Pallay Punchu
From the city of Cusco, you'll need to make your way to the town of Sicuani. Then, you'll need to catch a car to Layo. Once you get to this small town, there are a few ways you can get to Pallay Punchu.
Some of the routes are extreme and can be a little dangerous. For this particular mountain, we highly recommend going with a guide who's an expert on the trails. You'll be able to spend some time at the top and around the lagoon before you head back down.
Rainbow Mountains of Peru Travel Tips
To maximize your experience and ensure a great day, we recommend taking these tips into consideration before and during your day out.
Take Precautions Regarding the Altitude
Remember that you'll be heading up to a high altitude on any of these hikes. For this reason, you need to take lots of care before and during the trip to avoid feeling ill or finding things too challenging.
When you book your tour or plan the route you're going to take, make sure you make time to spend at least 2-3 days in the city of Cusco beforehand. This way, your body will have time to acclimate properly and you're much less likely to experience symptoms of altitude sickness. Unfortunately, when people don't acclimate as they should, they sometimes need to cancel their trip to the mountains.
Get Some Practice In
Before you come to Peru, we highly recommend partaking in other one day hikes to get your body prepared. You can also spend some time exploring Cusco by foot before you head on one of the more difficult hikes to help your body become accustomed to exertion at this altitude.
Drink Plenty of Water
At high altitudes, it's much easier to become dehydrated. Your body is working harder and you're also much closer to the sun, which can also make you need to drink more water. Keeping your body hydrated is essential up in the mountains.
Protect Yourself from the Sun
You are much closer to the sun up here, and you can get sunburnt in minutes, even if the sun is behind the clouds. Make sure you protect your skin from the UV rays by using a sun hat and wearing factor 50 or more sunscreen. You also need to make sure your eyes are protected with sunglasses.
Plan Ahead
We highly recommend planning your trip in advance. With this guide, you should be able to get a good idea of which mountain you prefer to visit. Book in advance to avoid disappointment at the last minute, which can happen, particularly in high season.
If you're going to do one of the routes by yourself, make sure you've worked out exactly how you're going to get from one place to another and plan your timing. You need to make sure you leave early for any of the mountains because it can be very hard to find transport back later in the day.
Rainbow Mountains FAQs
When's the best time of year to visit the rainbow mountains?
The best time of year to visit any one of these mountains is in April and May or September and October. During these months, there are fewer tourists in Cusco, so this means there'll be fewer at the sites, especially Vinicunca.
June, July, and August are very busy regarding visitors, however, Palccoyo and Pallay Punchu will still be relatively quiet so these are also good months to go to either of those.
From November to March, there's rain most days and this can make the trails slippery. February is particularly wet and you need to have lots of waterproof gear and boots or shoes with very good grip.
What's the temperature like at the rainbow mountains?
At the top of the mountains, the temperatures can get very chilly, especially if it's windy. When you're walking you'll get warm but will soon cool down once you're standing still. It's best to wear plenty of layers to take off and put on when needed and take a woolly hat, scarf, and gloves.
Vinicunca gets the closest because it's at a higher altitude and close to the snowy mountain Ausangate.
Which rainbow mountain is best to visit?
There's no one mountain better than the rest; it all depends on your personal preferences and the kind of experience you want. If you like to visit popular sites that are perfect for an iconic photo or to tick off an item on your bucket list, we suggest you head to Vinicunca.
Perhaps you want something off the beaten path and that's easier to hike; in this case, you should visit Palccoyo. If you want a more challenging hike, go to Pallay Punchu. They're all different and uniquely amazing!
Written by: Liv Palmer
---
---
You might also like
---