UNESCO chose this year 2019 as the "International Year of Indigenous Languages" with the goal of talking about them, reviving them and promoting them on an international level. This declaration is very important in countries like Peru in which 48 original languages exist that have resisted, for 500 years, abuse and discrimination since colonial times.
In Cusco, according to the last official census, of a million Cusquenians, 55.2% declared that they learned Quechua as their first language, and 74.7% declared themselves culturally as Quechua. In fact, Quechua is very present in the city of Cusco. You can hear it in conversations people have in the street, in popular music, in some communications networks and also in street names.
We know that maybe "Qhapchik'ijllu" is a word that's a bit difficult for you to remember, especially if it's the name of the street where your hotel is. However, to try to avoid confusion and to learn a little bit of the language used by the Incas to expand their power through all of Tawantinsuyu, we present for you 8 streets that you'll love to visit and whose names will be a lesson in linguistics. Let's go!
1. HATUNRUMIYOC STREET (HATUN RUMIYUQ)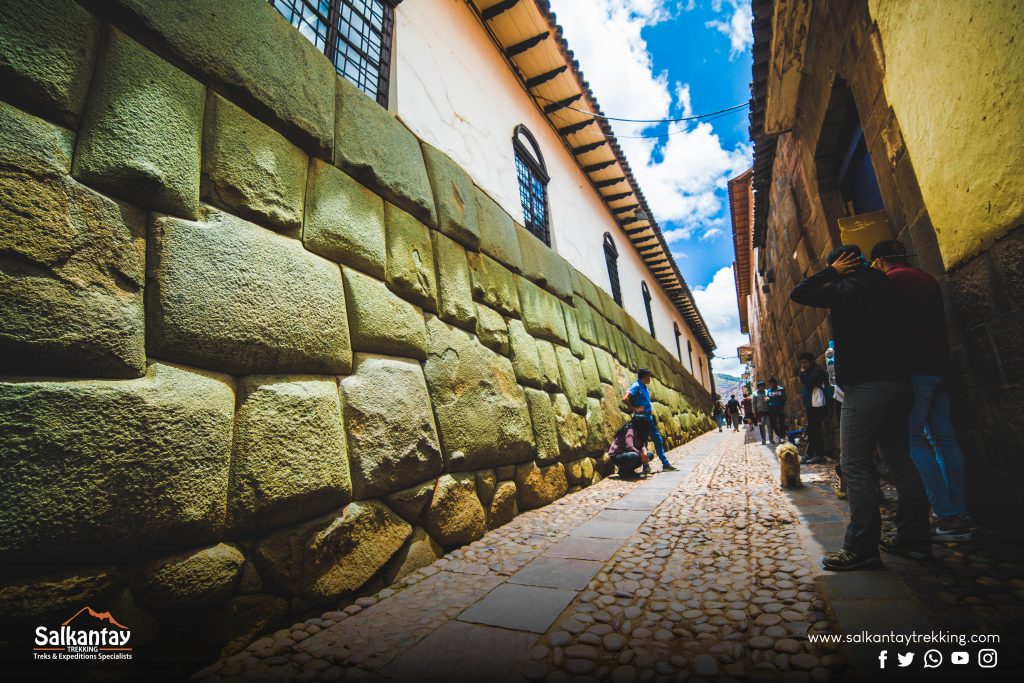 This impressive street is found one block from the Plaza de Armas. It has a wall that was once part of the Inca Roca palace. In actuality, this place is the palace of the archbishop of Cusco.
Having Hatun rumiyuq as the name of that street means there's a big stone there. You can translate it as something like, "where the big stone is." This is due to the presence of the famous 12-Angled Stone, which will show you the precision and beauty of Inca architecture. Now let's take a look at the pieces that make up this name.
Hatun: Big
Rumi: Stone
-yuq: This is a possessive suffix which can be explained a little bit better with the word "backpacker." Let's say that "backpack" is "q'ipi," so "backpacker" in Quechua could be translated as "q'ipiyuq," which means "the one who has a backpack." If "wasi" is "house," "wasiyuq" would be "the owner of the house."
2. PANTAQ CALLE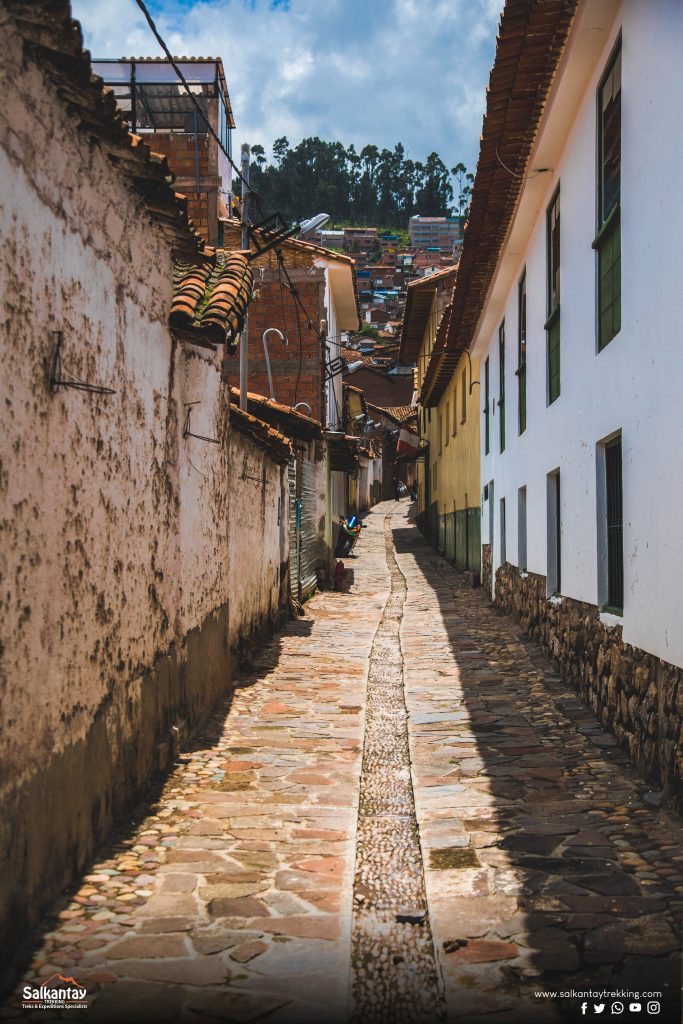 To get to this place, you should go through the narrow street Recoleta where there are restaurants, shops and hostels with great prices. Pantaq means "mistaken" or "a person that makes mistakes." So Pantaq Street comes to mean "the street of the one that makes mistakes," maybe because is a dead-end alleyway. This word in Quechua has two parts:
Pantay: Make a mistake
-q: This agentive suffix transforms verbs into person nouns who carry out that action. This means that if "pantay" means "make a mistake," "pantaq" is "someone who makes a mistake." Other examples: "takiy" is "sing;" "takiq" is "singer;" "llank'ay" is "work;" "llank'aq" is "worker."
3. ASNOQCH'UTUN (ASNUQ CH'UTUN)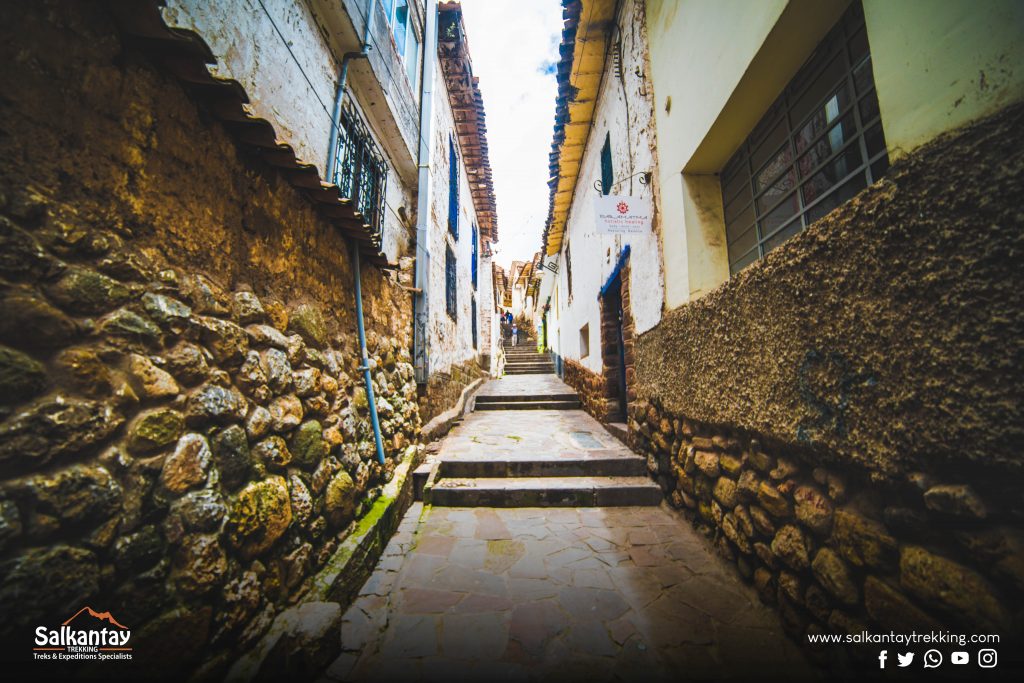 Asnoqch'utun is found in front of Pantaq Street, and you can use its stairs to go toward the San Blas market where you'll find fresh, healthy food that's cheap and delicious. This name is really fun because it means "donkey's snout," a mix of Spanish and Quechua:
Asno: In Spanish, donkey.
-q: It's a genitive suffix which, although it's written just like the suffix we just saw in the case of "Pantaq," in this case it indicates belonging, or "of the donkey."
Ch'utu: Snout
-n: You can translate this suffix as "his/her/its," so it's the mark of belonging of the third person. In this case, "Ch'utun" means "its snout."
In conclusion, "Asnoq ch'utun" means something like "of the donkey, its snout."
4. ATOQSAYK'UCHI (ATUQ SAYK'UCHI)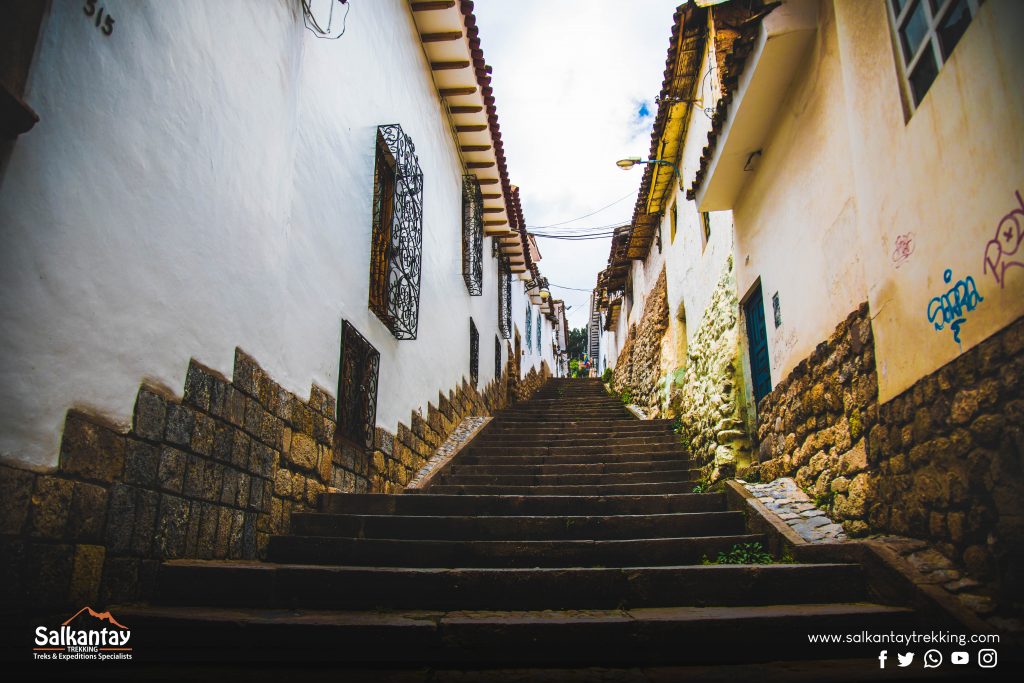 This steep slope brings you from the traditional neighborhood of San Blas to the Circunvalación Avenue, which you can take to get to the White Christ in the mountains surrounding Cusco. This name means "That which makes the fox tired" surely in reference to the never-ending stairs that form this extremely long path. If the fox gets tired going up, imagine how you'll feel when you get to the top! The name of this street is composed in the following way:
Atuq: Fox
Sayk'uy: Get tired
-chi: This causative suffix transforms verbs. Because of this, "Sayk'uchiy" means "to make tired."
5. PUMAQCHUPAN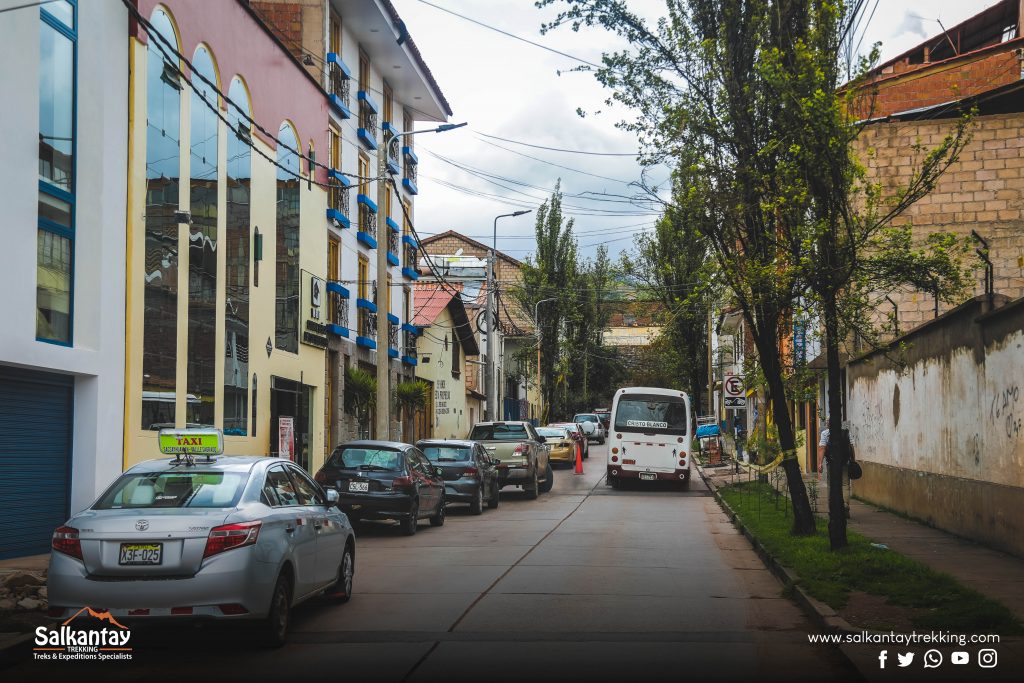 Pumaqchupan is a street found close to the famous fountain of water at the end of the Avenue El Sol. It literally means "Puma's Tail" and refers to the old form the sacred city of Cusco had. We know that the rivers Tullumayu and Watanay form the feline's tail in the junction of where the fountain of water we just mentioned was actually built. This name is composed like this:
Puma: This obviously means "puma."
-q: We already know about this suffix which, added to "puma," means "of the puma."
Chupa: Tail
-n: We've also learned this suffix which, added to "chupa," means "its tail."
In conclusion, the name of this street means: "Of the puma, it's tail."
6. CCORICALLE (QORI STREET)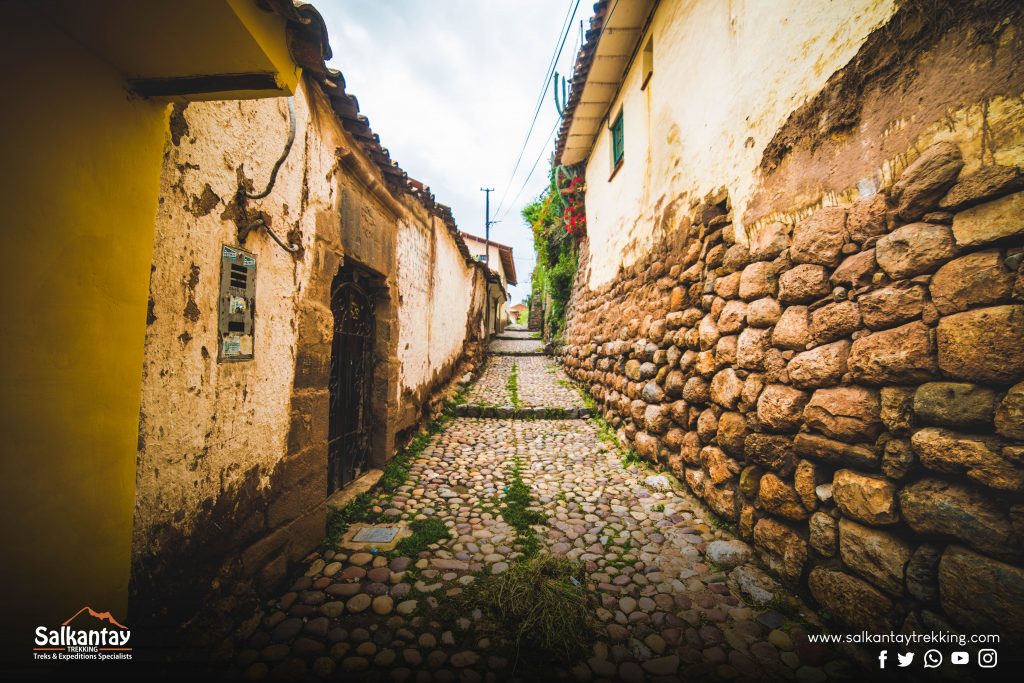 Stories tell that this street is called "Qori Street" because in one of its neighboring houses, a treasure of gold was hidden. "Qori" is the Quechua word for "gold," and surely, you'll find it more than once in the city of Cusco. This mysterious street is found at the end of the slope of Amargura (Bitterness) street. As soon as you walk through it, you'll feel a spell fall over you as if you're traveling through time or to another dimension.
7. K'UICHIPUNKU STREET (K'UYCHI PUNKU)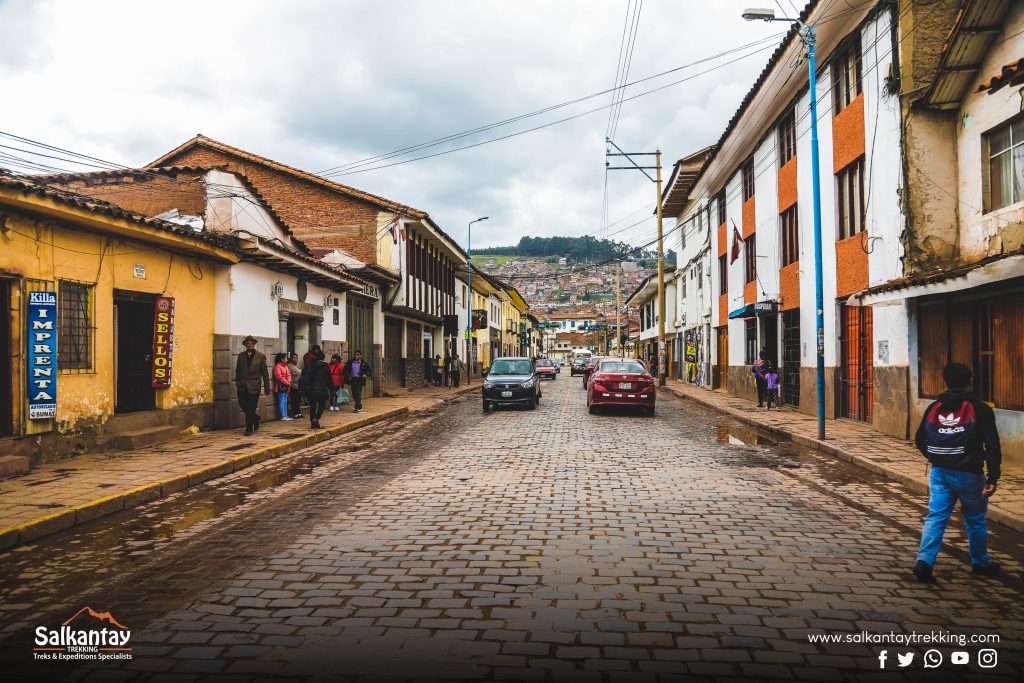 You can find this street close to the majestic temple of Qorikancha. Very closely, you'll also find the Heroe's Walk, a street unknown by tourists but which will dazzle anyone with its architecture and its grand houses. Its name is really beautiful and means "Door of the Rainbow," and, as an obvious result, it's made up of two terms:
K'uychi: Rainbow
Punku: Door
8. CHOQUECHAKA (CHOQE CHAKA)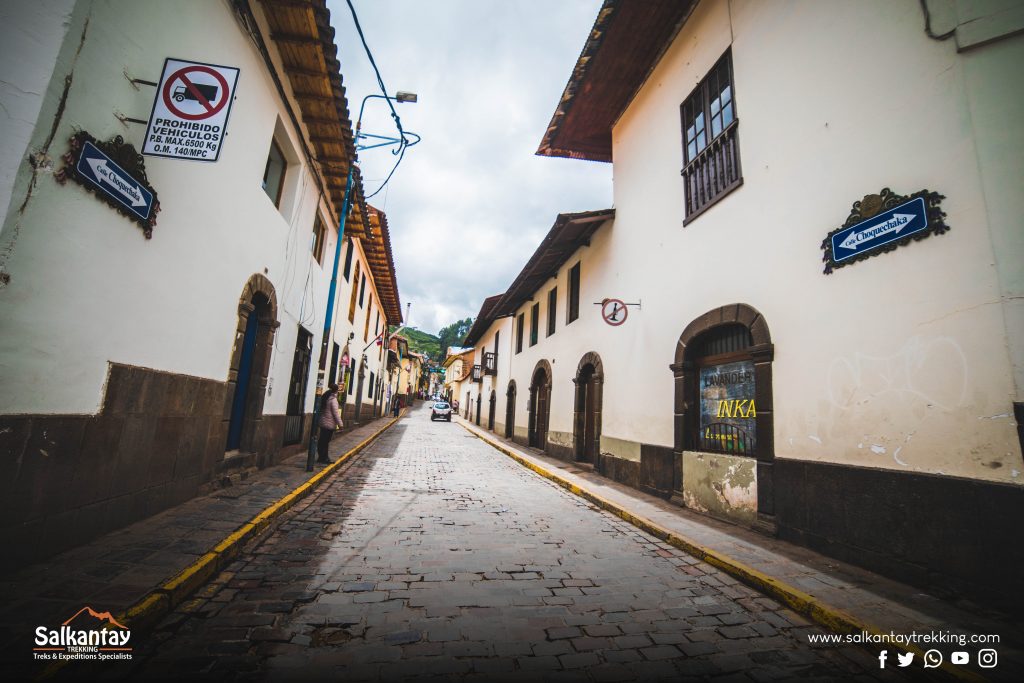 The name of this street means Golden Bridge, and it's said that it was a bridge constructed over the river Tullumayu. Closeby, there are many restaurants and hotels for all budgets: from the most luxurious to the cheapest.
Choqe: Gold (Yes, we said that gold in Quechua is "qori," but "choqe" is a less used word that refers to this sacred metal which the Incas used to represent the energy of the sun.)
Chaka: Bridge
Take advantage of your visit to Cusco to learn a bit more about Quechua, the most expansive indigenous language of Latin America, and feel the true heart of the mountains speaking to you through your lips and heart.
All photos by: Ricardo Gamarra (Salkantay Trekking).
---
---
You might also like
---