Christmas in Cusco is a special celebration that motivates us to give and receive love. No matter your religion, you will always be welcome and a Cusco home will be willing to open its doors to you. As in the rest of the world, we all enjoy this time of the year because it brings the whole family together and is a great opportunity to reconnect.
In Cusco, archaeological capital of America, and in all Peru, the main day of Christmas celebration is December 24th. On this day the whole family gathers to exchange presents, wait together for midnight and celebrate the birth of the child Manuelito.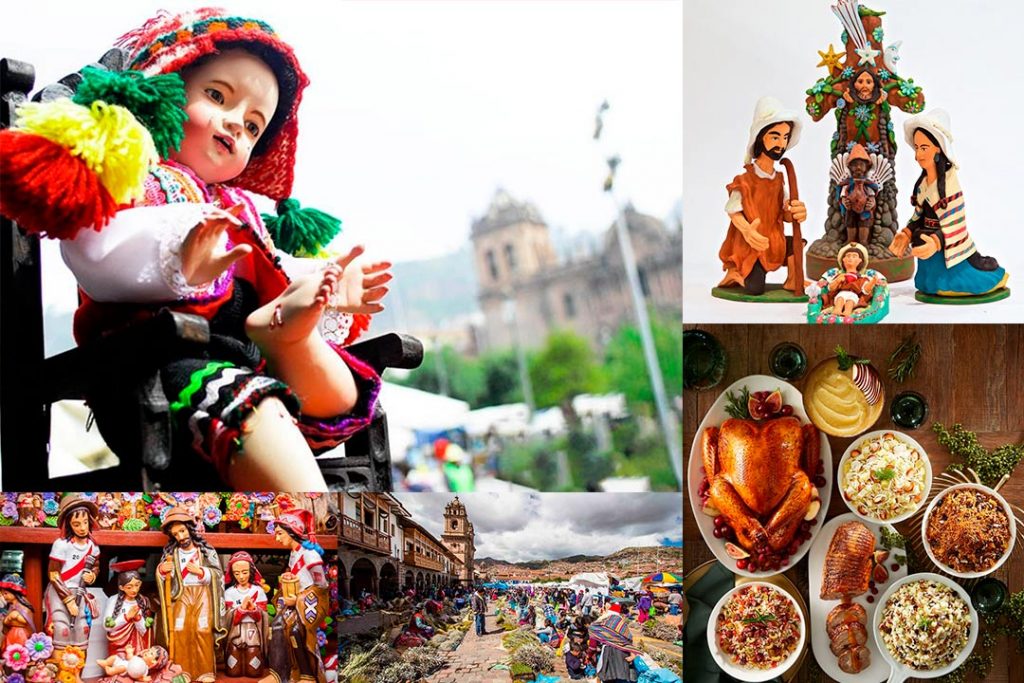 Santurantikuy
The Santurantikuy translated from Quechua language means "buying and selling of saints", is an event that takes place every December 24th and in the main square of Cusco. This important event brings together artisans from all parts of the city and you can find a variety of styles of native Cusquenian art.
Due to the pandemic, this year the Santurantikuy will take place in one of the venues of the Dirección Desconcentrada de Cultura Cusco, if you want to make your purchases we recommend wearing comfortable shoes, have cash and have on hand a good plastic poncho for the rain since it always rains these days.
Child Manuelito
In the Santurantikuy, you will be able to observe that one of the main figures is the child Manuelito, it will be easy to recognize him since he has curly hair and usually tears run down his cheeks. The child's name comes from a derivation of the name Enmanuel which means "God with us".
The child Manuelito can be found in different positions: asleep in the manger, sitting on a throne with his Varayoq or crying with a thorn in his foot; this is because just like any other naughty child of his age, he can go out to play and have fun. Every year, Cusquenian families buy their child different clothes and shoes.
The perfect gift can be found at Santurantikuy
In Santurantikuy we can not only buy different ornaments to decorate the nativity scenes that we assemble at home, we can also find different crafts and handicrafts that will become perfect souvenirs to give to the people we appreciate the most.
The best of local production can be found in the Santurantikuy. Producers and merchants offer in their stalls: textiles, jewelry and a variety of musical instruments. We can also find works made of metal, wood, ceramics, marble, stone and glass.
We eat a lot at Christmas
There is no celebration without good food and company. December is the month of "fattening" in all of Peru because every day we eat rich and tasty food, our breakfasts are accompanied by panettones and chocolate. The night of the 24th we eat a delicious baked turkey and the following days we make side dishes to finish with the leftovers of the previous day.
Everyone is nostalgic for the year that is leaving and the meetings at work and among friends are more frequent, which is why in the center of the city there is always a party and a lot of joy.
December 25th
This day is a national holiday and there is not much movement in the streets since all the families are still asleep because they celebrated until very late in the morning. This is a good opportunity to take a tour of the city and get to know its streets in a more intimate way.
At lunchtime, little by little, the city returns to its rhythm, there are delicious food stores for those who could not cook at home and there are groups of happy children, playing in the streets with their toys or browsing with their little baskets.
Written by: Tatie Berenice Salas.
---
---
You might also like
---