Peru is home to some of the most beautiful natural wonders in the world. It has more microclimates than any other country in the world and a vast array of landscapes and scenery to be observed. It boasts a gorgeous coastline, stunning mountain ranges, and thick, lush jungle.
The huge number of mountains in the country, at high and low altitudes, trap clouds that cross the pacific, which causes a large amount of rainfall on them. All this precipitation and many glaciers in the country mean that there are many rivers running down the mountainsides. It should come as no surprise, then, that there are some absolutely incredible waterfalls along their routes.
There's something about a waterfall that causes you to feel relaxed and at one with Mother Nature. So, let us take you on a tour of the most amazing waterfalls in Peru.
Yumbilla Fall
Let's start by heading deep into the Amazon rainforest in the far north of Peru. This waterfall is truly breathtaking and is the fifth highest in the whole world. The drop from top to bottom is 900 meters, so you can imagine the loud sounds it creates.
The water tumbles over a limestone cliff and into a vegetation-filled bowl. If you're planning on visiting this fall, we recommend you visit with a professional guide who knows the area. This way, you can make sure you see all the waterfall parts, including hidden sectors that you likely wouldn't explore by yourself.
Gocta Waterfall
We're staying deep in the Amazon for this waterfall to one that was discovered more recently; in 2005 to be exact. It's also one of the highest on the globe and many consider it to be one of the best-kept secrets in Peru. You can see the two-tiered fall from a distance and see it plummeting into greenery below.
This cascade is formed by the Cocahuayco River, which has been a water source for the locals for many years and long before the waterfalls were actually stumbled upon. Some myths and superstitions were surrounding the falls, which is another reason they weren't visited until more recently. In the same valley, you can also see another 22 waterfalls that are especially powerful during the rainy season.
Ahuashiyacu Waterfall
If you're traveling with kids and want to visit a waterfall with the whole family, this is a perfect choice. It's only a few minutes from the gorgeous city of Tarapoto, so you don't need to head deep into the jungle on a trek to see it. The name of this cascade translates to 'singing water' or 'laughing water.'
The drop from above is around 40 meters in a little pool with some shallow parts, making it perfect for swimming and enjoying as a family. The best time to visit this part of Peru is during their summer, at which time the waterfall and pool provide an excellent place to cool down from the hot temperatures.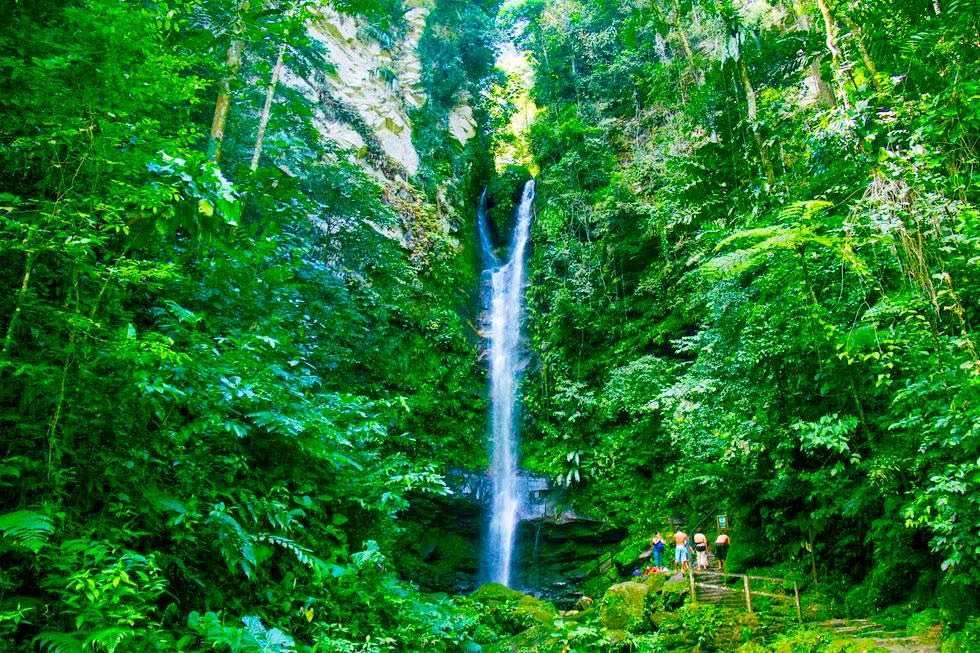 Tirol Fall
Very close to the little town of San Ramón, you'll come across one of the most-visited waterfalls in the country. Tirol isn't just incredible scenery; it also provides some extra attractions for a fulfilling day out.
You'll need to pay around $1 to enter and then walk for an hour or so to get to the cascade, but once there, you'll find lots of street vendors as well as bathrooms, changing rooms, and more. This is an excellent activity if you're looking for an adventure-filled holiday.
Chinata Fall
Now we're heading to one of the most impressive falls in Peru. Chinata drops from a tall height of 580 meters and descends on three levels. It then disappears off into the Peruvian jungle.
To enjoy this trip to the fullest, you should head to Cuispes, a small town nearby, and book a day out with a certified guide. They'll take you up the short but steep path to a viewpoint from where you get a view of the whole incredible landscape. Make the most of your day and take a hike to the closeby Amazon fortress of Kuelap.
Pucayaquillo Waterfall
We're back in Tarapoto now to one of the more popular waterfalls in the zone. It's only 23 km from Tarapoto city and is a hot spot for nature lovers and those looking for outdoor activities. It's the ideal place to come for a dip and cool off from the warm climate.
The cascade is small but very relaxing, and many enjoy swimming in the pool at the base. You'll find that some of the area hotels offer tours in Tarapoto in which a visit to the waterfall is included.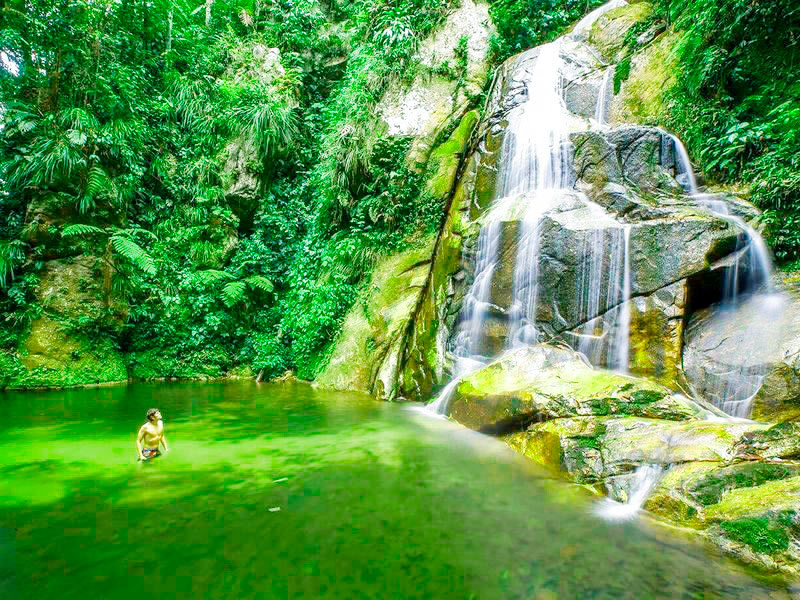 Bayoz Waterfall
Another fantastic waterfall for a day of swimming is Bayoz. These are a series of cascades that form different pools to enjoy relaxing and splashing in them. If you're in Lima, then this is a close option to escape the city.
You don't need to worry about the altitude here as you're only 520 masl/1,700 fasl. The falls are located between two towns, Satipo and La Merced, and the best way to get there is by bus from Lima.
Borgoña Waterfall
Back in the Amazon and near the La Merced district, you'll find this small waterfall. This fall is relatively small, and it's more about the journey there that makes it exciting.
Hiring a guide is your best option here, as you can ask them to lead you on a real adventure trail that makes the trip to the cascade all the more exhilarating and almost like you're in an Indiana Jones flick.
El Llanto de la Anaconda Waterfall
Deep in the Sierra del Divisor National Park, you'll find this spectacular waterfall. It's between the regions of Loreto and Ucayali. This section of the jungle is considered one of the oldest parts of the Amazon rainforest. It's a truly magical setting.
The trip there is also very adventurous, and you can either fly for 30 minutes by plane from Pucallpa to Contamana or cruise down the Ucayali River for 18 hours. Once you arrive, hire a local guide who can take you through the park to the cascade.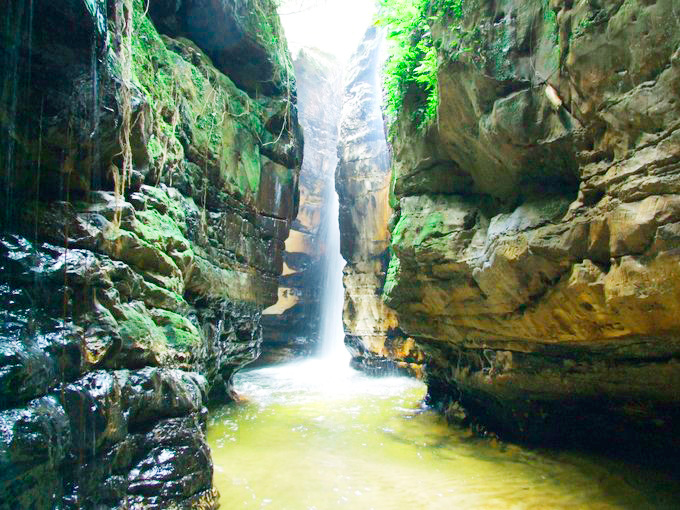 Get Off-the-Beaten-Path and Visit Peru's Waterfalls
These wonderful waterfalls are away from the typical tourist trails, and you can expect to enjoy peaceful moments on them. Relax, surrounded by Mother Nature and the sounds of water dropping from tall heights into rivers and pools below.
You'll be able to swim in some and make the most of days out with other attractions in a few places. Hire a knowledgeable guide where you can explore the area and enjoy an adventure-filled trek while you're at it. There's one thing we're sure of; you won't be disappointed by these amazing waterfalls in Peru.
Written by: Liv Palmer
---
---
You might also like
---