---
Inca Trail Classic 4 Days
The great adventure of the Inca Trail to Machu Picchu is for those who live passionately, always looking for a new experience!
Inca Trail - km 82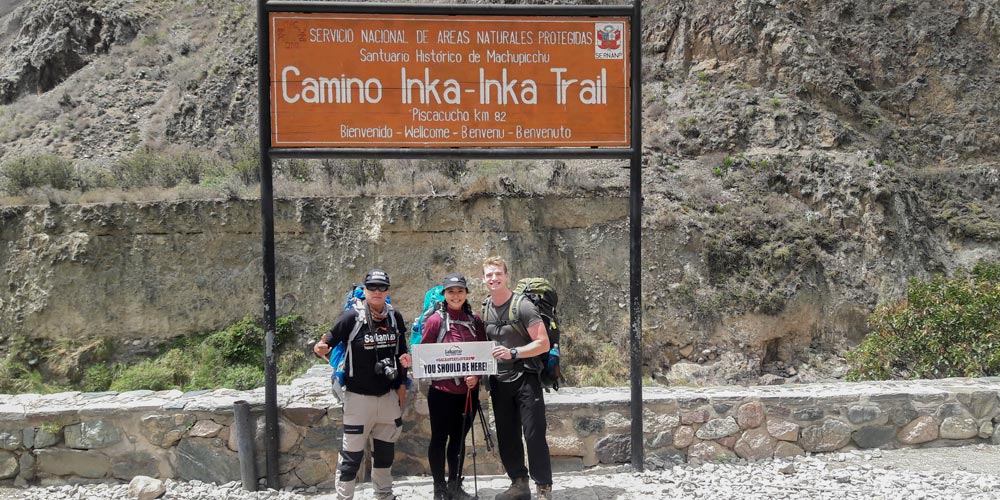 Warmiwañuska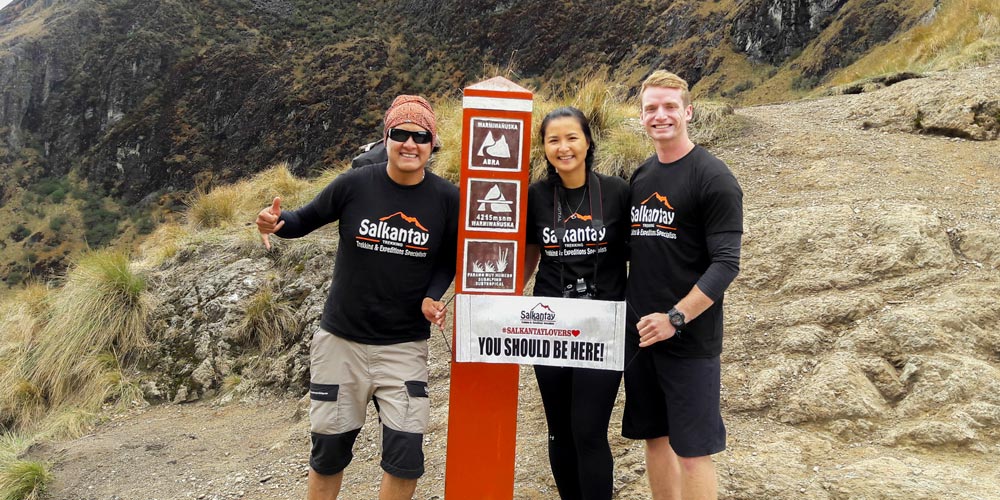 Wiñay wayna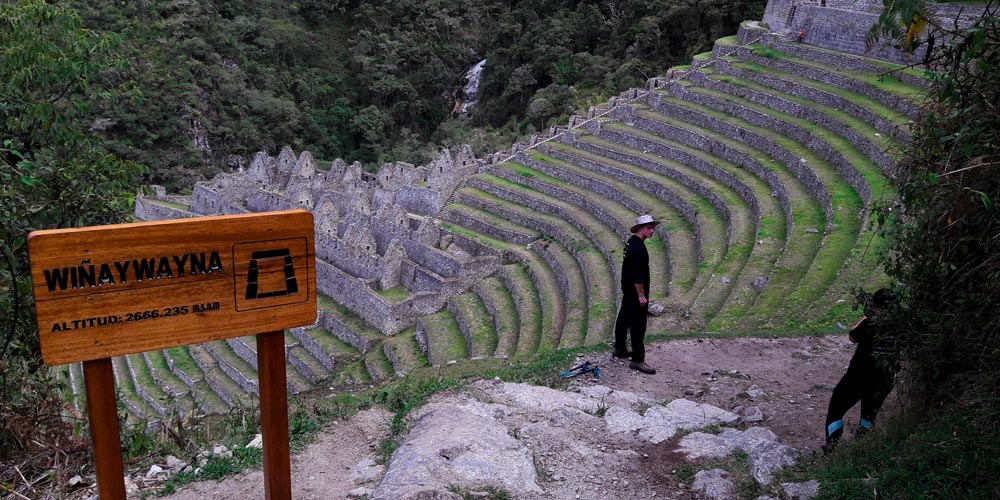 Huiñay Huayna Archaeological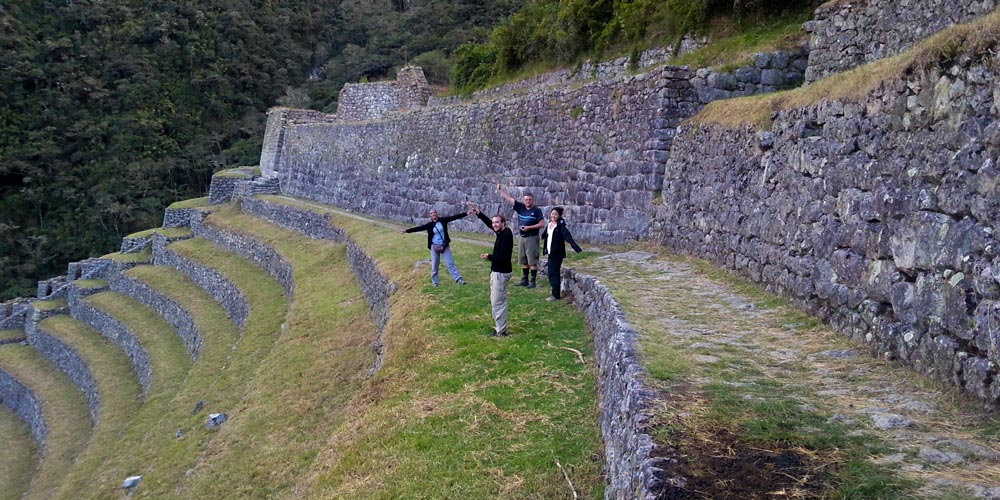 Trek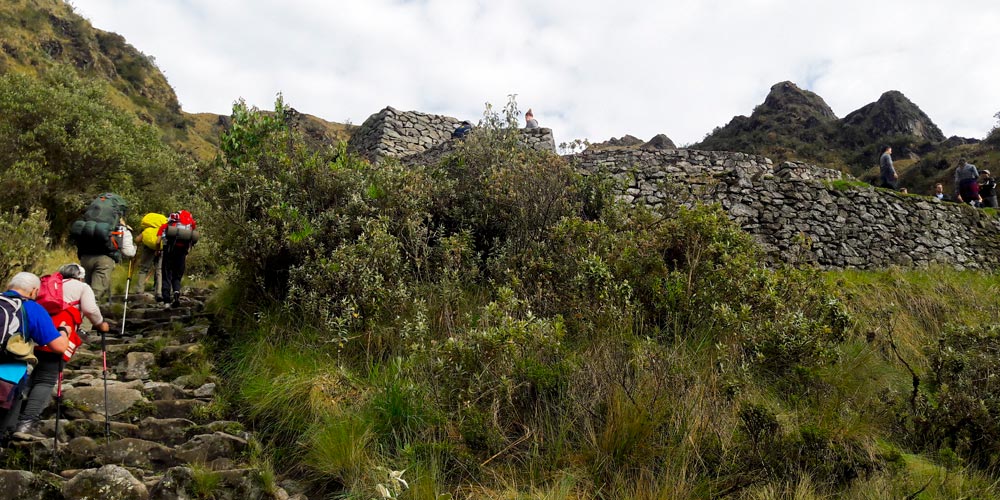 Archaeological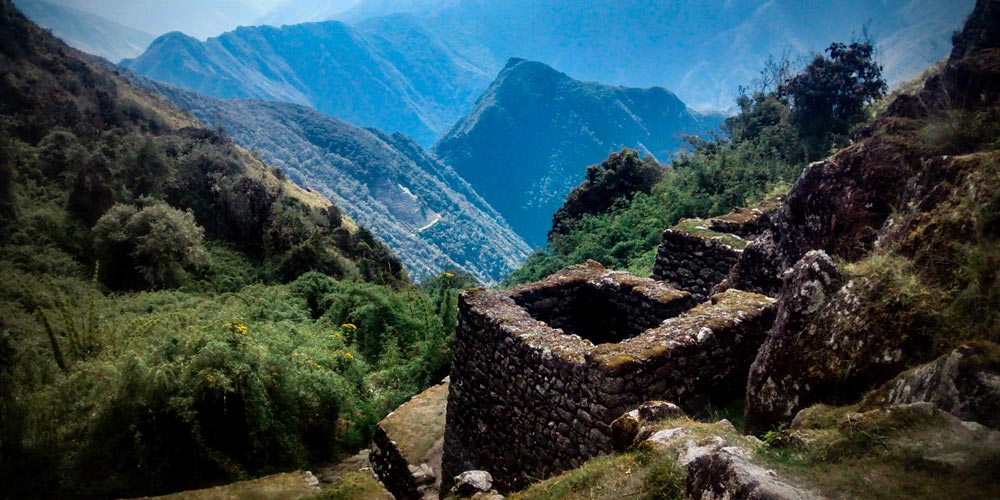 Inca Trail to Machu Picchu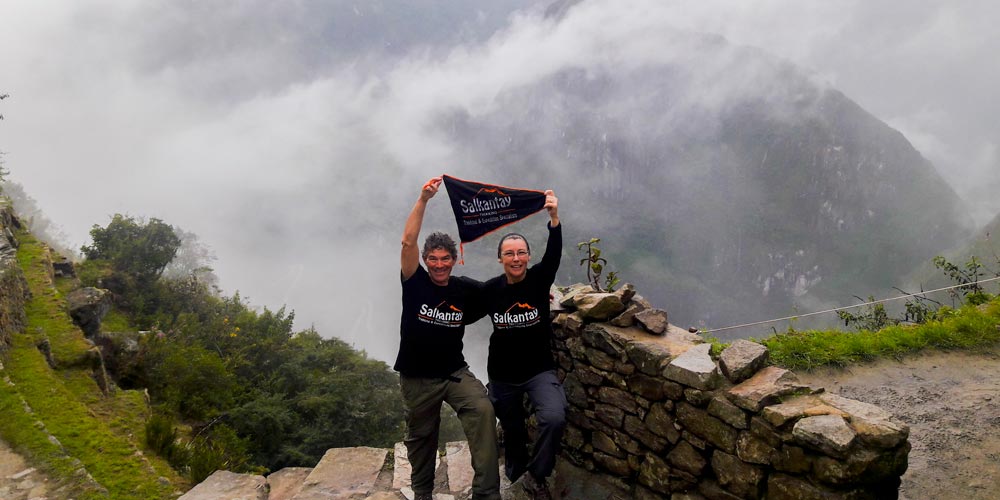 Trek to Machu Picchu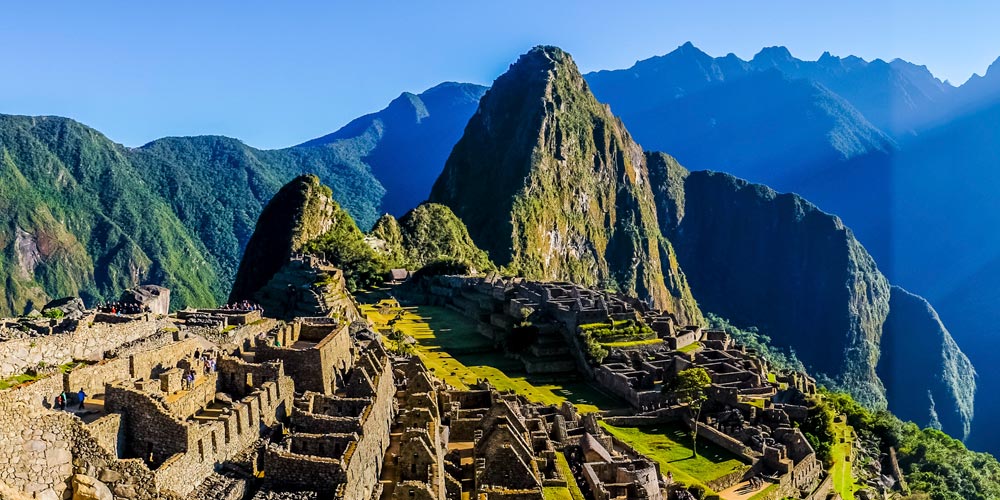 Machu Picchu Archaeological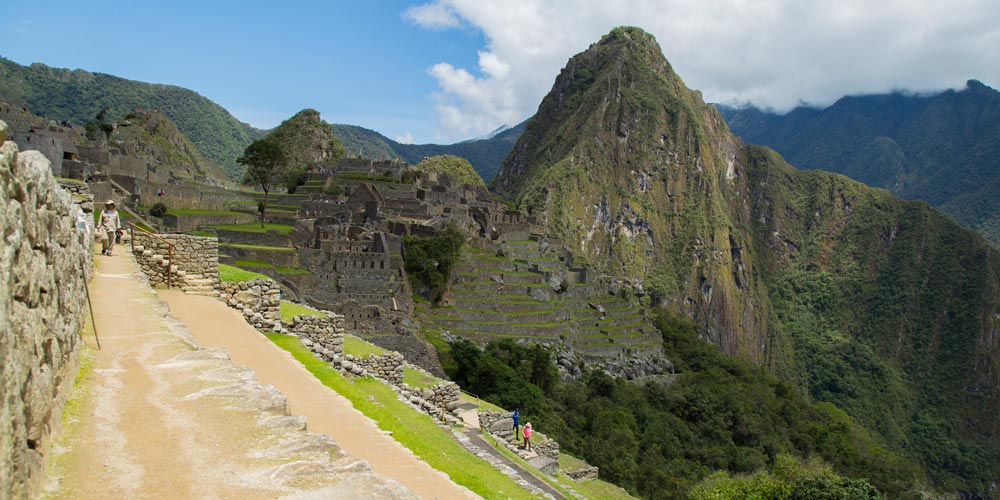 DESCRIPTION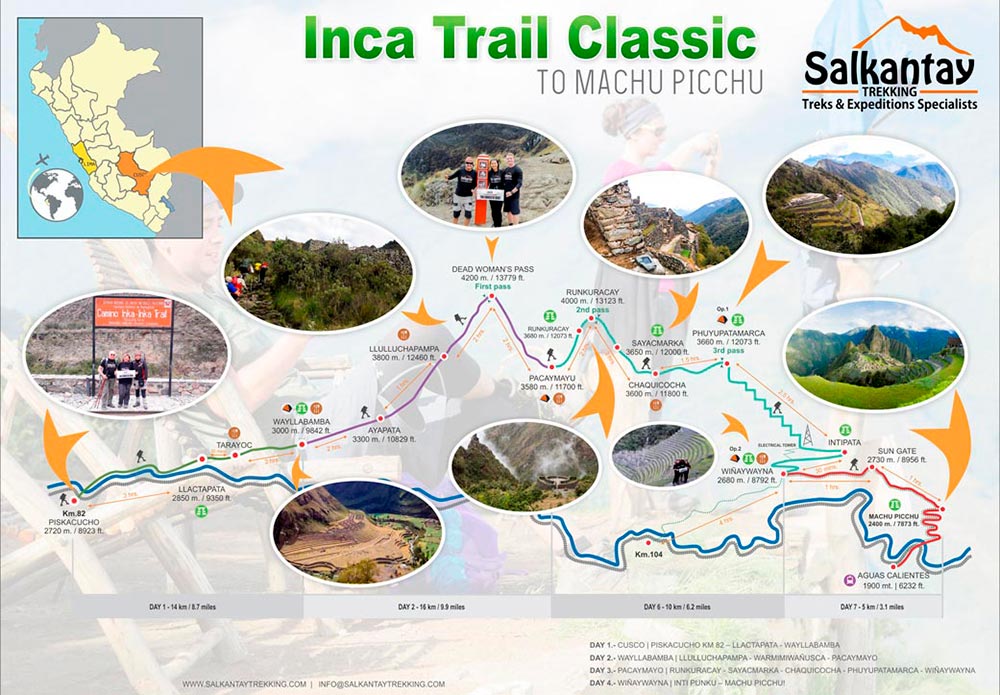 TREKKING MAP
The Inca Trail to Machu Picchu offers a spectacular experience. This trekking route is not only considered the best in all of Peru but also as one of the most outstanding on a global level.
Hiking this ancient trail is a magical and breathtaking experience. Not only can you discover the mysteries of almost 20 archaeological sites, but you'll also have time to connect deeply with nature. On this trail, you'll pass through an impressive variety of altitudes, climates and ecosystems; you'll begin in impressive snow-capped mountains and end in the warm tropical forest. They say that this path was designed as a purification route to access the sacred city of Machu Picchu.
Our adventure starts near the town of Piscacucho at kilometer 82 of the railway connecting Cusco and Quillabamba. From there, we'll take 4 days to arrive to
Machu Picchu
through the Sun Gate, or Inti Punku. You'll see the valley of the Cusichaca River, the Warmihuañusca Pass, the Pacaymayo gorge and the archeological complexes of Sayacmarca, Phuyupatamarca and Wiñayhuayna among many other wonders that will astound you. This tour is ideal for those who are filled with energy to hike all the way to
Machu Picchu
in the
trip of a lifetime!
HIGHLIGHTS
The Inca Trail is the best and is the most popular trek in Peru!
This trek is ideal for adventure seekers, couples, friends, nature lovers, and intrepid people
See natural bridges, snowcapped mountains, waterfalls, wildlife, and the cloud forest
The Inca Trail trek is listed in the TOP 5 best treks in the world by multiple different magazines
Itinerary
DAY 1: Cusco - Ollantaytambo - Piscacucho (Km 82) - Huayllabamba
Walking Distance:
12km / 7.45 miles
Trekking Time:
About 6 hours
Starting Elevation
3,360 meters ASL / 11,021 FASL
Campsite Elevation
2,954 MASL / 96094 FASL
Difficulty:
Moderate
Maximum altitude:
2,954 MASL / 9,694 FASL
Minimum altitude:
2,670 MASL / 8,761 FASL
Meals:
Lunch & Dinner (Plus snack and afternoon tea)
Accommodation:
Camping
Adventure
: Absolutely, completely satisfactory
We'll pick you up early from your hotel in Cusco and travel by private bus to Piscacucho (Km 82). During this drive, we'll pass through the Sacred Valley of the Incas and its principal towns of Chinchero, Urubamba and Ollantaytambo where we'll make a quick stop to visit the local market and buy a few provisions for our trek.
In Piscacucho, we'll register to enter the Inca Trail and will get to know the trekking team (chef, porters, assistants, etc.) who'll accompany us during our great adventure.
From Km 82 (2,800 MASL / 9,186 FASL), we'll start an easy 2-hour hike to arrive at Miskay. There, we'll have lunch and take advantage to have a short rest. Then we'll continue our hike upward to a small plateau where we'll delight in an extraordinary Andean landscape and an Inca construction known as Patallacta (2,750 MASL / 9,022 FASL). We'll see farming terraces there, which served to feed travelers who used this path to get to Machu Picchu.
We'll continue walking through an area full of vegetation; pay attention, because here, you could see the giant hummingbird! After about 2 hours, we'll arrive at our first campsite in the Huayllabamba area (2,954 MASL / 9694 FASL). Huayllabamba is a small town surrounded by corn and potato fields, as well as other produce. Here, we'll enjoy our dinner and a refreshing rest in our tents.
DAY 2: Huayllabamba - Abra Warmihuañusca - Pacaymayo
Walking Distance
13 km / 8.1 miles
Trekking Time:
About 7 hours
Maximum altitude:
4,200 MASL / 13,779 FASL(Warmy Wañuska Pass)
Minimum altitude:
2,954 MASL / 9,694 FASL
Difficulty:
Moderate to Challenging
Meals:
Breakfast, Lunch, & Dinner (Plus snack and afternoon tea)
Accommodation:
Camping
Adventure:
Absolutely

As soon as you wake up, our team will offer you a hot coca tea to help you acclimatize more easily to the altitude. Then you'll enjoy a filling breakfast prepared by our chef. Your energy will be instantly renewed! From there, we'll start our day's hike, walking 1 hour toward the Ayapata Valley, known for its enjoyable microclimate. Next, we'll go through a narrow, vegetation-filled trail to a small bridge, bringing us to the cloud forest. Prepare yourself for a mysterious panorama beautiful beyond comparison! Soon, we'll arrive at the highest point of our trek, the Warmihuañusca Pass (4,200 MASL / 13,779 FASL). As you hike to this point, you'll observe changing vegetation and temperature. It may be a bit chilly, but you'll have the reward of a gorgeous view of Andean glaciers. Next, we'll descend through a winding valley to arrive at a place where we'll have lunch. If you're a bird lover, take advantage of this part of the trail to observe several different bird species. After lunch, we'll continue our hike to Pacaymayo (3,600 MASL / 11,811 FASL), where we'll take the rest of the day to relax, have dinner and then spend the night in our tents there.
DAY 3: Pacaymayo - Runkuracay - Phuyupatamarca - Wiñay Wayna
Distance:
16 km / 9.95 miles
Trekking time:
About
8 hours.
Lodging type:
Campsite
.
Maximum altitude:
3,800 MASL / 12,467 FASL
Minimum altitude:
2,954 MASL / 9,694 FASL
Campsite altitude:
2,700 MASL / 8,858 FASL
Difficulty:
Moderate
Meals:
Breakfast, lunch and dinner.
Adventure:
Absolutely.
Just like every morning, we'll serve you hot coca tea and a delicious breakfast to recuperate your strength. For many visitors, this is one of the hardest days, but at the same time one of the most beautiful because of the Inca constructions along the trail.
After breakfast, we'll start our hike uphill on a steep trail to the impressive archeological site of Runkurakay (3,800 MASL / 12,467 FASL), which has this name due to its interesting semicircular form that also protects from this area's strong winds. Next, we'll continue ascending to the Yanacocha lake and then hike down to Sayaqmarca (3,600 MASL / 11,811 FASL) where we'll see new archeological sites and have a panoramic view of the Acobamba Valley. Remember, the only way to access these constructions is through steep, stone stairs. During this hike, we'll also see a recently-discovered archeological site: Conchamarka.
We'll continue uphill and, after passing through a long tunnel, arrive to a site called Phuyupatamarca (3,665 MASL / 12,024 FASL) found on the edge of a cliff. Here, we'll see various farming terraces and ceremonial fountains.
After visiting this site, we'll go down about 2,000 stone stairs to arrive at Wiñaywayna (2,700 MASL / 8,858 FASL). Its name, which in Quechua means "To always be young," is derived from the red, yellow and violet orchids found here all year long. This archeological site is the most interesting of all that you'll find along the Inca Trail and also the last before arriving to Machu Picchu.
After exploring Wiñaywayna, we'll go to our last campsite, located a few meters from there, where we'll have dinner and spend the night, peacefully. Here, we'll say goodbye to our trekking team who have been with us, so we'll organize a small "thank you" party.
DAY 4: The Most Important Day – Machu Picchu!
The most astounding: Feel how your heart races as we get closer and closer to Machu Picchu early in the morning. We'll arrive before the majority of tourists! Explore this magnificent World Wonder as we enjoy the sunrise. Discover the mysteries of Machu Picchu with professional guides in a 2-hour tour. Next, if you'd like and have reserved your tickets beforehand, climb the mountains of Wayna Picchu or Machu Picchu.
Today, we arrive to the final destination of our trek: Machu Picchu, one of the
New 7 Wonders of the World
and
Historical and Cultural Heritage of Humanity
.
On this last day, we'll get up very early to have breakfast and continue on our hike. After 3 hours of hiking, we'll get to the Intipunku, or Sun Gate (2,490 MASL / 8,169 FASL), which is located in front of the archeological complex of Machu Picchu. When you see, for the first time, this impressive archeological center, you'll feel that all the effort was worth it. Let yourself be enveloped by its potent energy in the gentle morning light!
For 2 hours, we'll have a guided visit through the entire ancient city. Inca architecture is truly surprising! They managed to construct a secure, sustainable city with excellent planning on top of the mountains, thanks to their profound relationship with nature. Among their other achievements, they were able to distribute water to the entire town through canals!

After the tour, you'll be able to climb Huayna Picchu or Machu Picchu mountain. For these, you'll need to have reserved your tickets in advance. It takes 3 hours, round trip, to hike either mountain.
You'll enjoy this magical city for 6 hours before going down to the town of Aguas Calientes (2,160 MASL / 7,087 FASL), where at about 4:22 PM, we'll take our train back to Ollantaytambo (a 2-hour ride). In Ollantaytambo, we'll get on a private bus that will take us back to Cusco. Arrival to the city will be at about 10:30 PM.
We've finished this vibrant adventure, and now you can rest your body. However, we assure you that your heart will keep beating in delight for weeks, years, or even eternally.
Thank you for choosing Salkantay Trekking!
We'll do everything within our power to take care of you
and guarantee an amazing journey!
Included
What is Included?
Informative session/Briefing: The night before your trek starts, we'll have an informative meeting in our office at 6:00 PM. There, you'll meet your guide and group of other trekkers. You'll receive there a duffel bag you can use to carry your personal items, such as sleeping bag or camping mattress. The duffel bags will be carried by our team and will only be available once we get to each campsite.
Professional guide: Our guides have great dominion of English and Spanish language. They've all grown up in this region and feel a true passion for sharing their cultural heritage with other people. They're really fun but also professional. They guarantee that you feel comfortable, safe and happy so you can enjoy your trek with no worries.
Train ticket: From Aguas Calientes to Ollantaytambo in the "Expedition" service of Peru Rail at about 4:22 PM or 2:35 pm. The train schedule depends on availability.
Touristic transportation: All transportation is included in this trek.
Day 1: Cusco - Ollantaytambo - Km 82
Dia 4: Ollantaytambo - Urubamba - Cusco
Entrance ticket to the archeological complex of Machu Picchu
Entrance ticket to the Inca Trail
Personal tents: Salkantay Trekking has the best camping equipment. Seeking the highest comfort and safety, 2 trekkers will stay in each 4-person tent. We use tents from Kailas, Pro-Aconcagua and Eureka Timberline.
Logistics: We have cooking and dining tents so that you can peacefully enjoy your meals; we also have tables, chairs and complete kitchen equipment. All of this is carried by our team of porters.
Meals: 3 breakfasts, 3 lunches and 3 dinners. Special menus, such as vegetarian or vegan, are available at no extra cost. The Salkantay Trekking chefs cook delicious dishes that many trekkers have raved about. We respect all special diets. Be sure to let your guide know about any special diets before your trek begins. Food is served family-style. You'll enjoy breakfast, lunch and dinner every day, as well as delicious snacks during tea time in the afternoon. You'll also receive diverse snacks every morning to satisfy hunger pangs as you trek. The last meal cooked by our chef will be breakfast on day 4. Lunch and dinner the last day are not included. Remember, we work toward the goal that you will never be hungry!
Morning tea: Every morning, you'll enjoy a cup of hot coca tea in your tent. It will be an excellent way to start the day.
Tea time: Every afternoon, we'll serve you popcorn, cookies, crackers, coffee, hot chocolate, tea, hot water, etc. After a long day of hiking, you won't have to wait until dinner to fill your stomach.
Daily snacks (days 1, 2 and 3): At the beginning of every day, we'll offer you delicious snacks in a cloth bag: local fruits, cookies, crackers, chocolates, candy, etc.
Water: Every morning after breakfast, Salkantay Trekking will provide you all the water you'll need. Before giving it to you, it will be boiled, filtered and chilled. You should bring your own bottle to be refilled at every meal. We recommend carrying 3 liters of water.
Foam camping mats: You can put these under your sleeping bag for a higher level of comfort.
Lodging: 3 nights in tents
1 duffel bag: There, you can put your personal belongings (including sleeping bag) up to 7 kg / 15 lbs.
Porters: A porter will carry your duffel bag and sleeping bag. It's important to mention that you'll only have access to your bag when we arrive to the campsites.
1 cloth bag: As we've already mentioned, we'll give you a cloth bag to carry your snacks. By doing this, we avoid using plastic bags, which contaminate the environment.
Washcloth: We'll provide warm water and a washcloth before every meal so you can wash your hands.
First-aid kit: Every Salkantay Trekking guide has been trained in first aid by a doctor. We have mandatory trainings for the guides. Your guide will always have a first-aid kit to respond to basic medical problems, such as diarrhea, cuts or scratches, as well as an oxygen bottle.
24-hour-a-day information service: We have a telephone service available 24 hours a day so you can communicate with us at any time for any questions you have.
We'll create a magical experience you won't ever be able to forget!
Not Included:
Sleeping Bags: You can rent one from our company if you do not have your own. Our sleeping bags are effective and durable to protect from temperatures as low as -18ºC (0.4 ºF). They are mummy form and include a sleeping liner. The bags are cleaned after every use and have a maximum usage of 20 trips.
Walking Sticks: You can rent a set from our company if you would like.
Last Day: Lunch and Dinner in Aguas Calientes.
Clothing and personal equipment
Travel insurance
Tips for our team: Remember that our team does receive payment for their services, so feel free to give or not give tips.
Additional costs: It's possible that there will be additional costs, delays or modifications of the itinerary for reasons outside the control of the agency, such as: bad weather conditions, security or health problems, change of government policies, political instability, strikes, etc.
+ Info
IMPORTANT INFORMATION FOR THE INCA TRAIL TREK
Please read carefully the following information – it will help you with any questions you may have about our services.
THE BRIEFING
This meeting will take place the night before the trek's departure at 6 PM at our office which is located at Triunfo Street 392, Office 212 (second floor). We are 1 block from the Main Square (Plaza de Armas) of Cusco.
MAY I CHANGE THE DEPARTURE DATE AFTER THE TICKETS HAVE BEEN BOUGHT?
Unfortunately the answer is "No". Once the tickets have been bought the government does not allow any changes, so we can't change any departure date after the ticket has been bought. Tickets are also not transferable nor refundable. *** If you cancel your Classic Inca Trail Machu Picchu Trek, the deposit is not refundable at all!
WHAT ABOUT THE BALANCE?
It would be greatly appreciated if you pay in cash at our office (US dollars or Peruvian soles) here in Cusco. We have many cash machines in the historical center to withdraw money. You can also pay by
VISA
or
PAYPAL
online but you will have to pay a 8% service charge, charged by
VISA
and
PAYPAL.
To pay your balance through
PAYPAL,
you need to log into your
PAYPAL account using our email address of ventas@salkantaytrekking.com
CAN I STORE MY LUGGAGE AT YOUR OFFICE?
Of course! During the travel, your main luggage can be stored at our office or at your hotel, both free of charge.
HOW TO BOOK THE Inca Trail Classic 4 Days
FIRST
To make a booking, please
email us
to check availability and receive customized booking forms. You can also download a generic form from:
All clients will need to fill out a
Passenger Details form.
Please be ready with the following information (FROM EACH PARTICIPANT in your group). We cannot purchase any
Inca Trail Classic 4 Days
permits or entrance tickets without the following information:
Personal information (Full name, exactly as on your passport):
Gender
Passport number
Date of birth (dd / mm / yyyy)
Nationality
SECOND,
we require a deposit of
US$350
per person in order to purchase a permit for the
Inca Trail Classic 4 Days
. You can make you deposit by clicking on the
VISA
or
PAYPAL.
Price
2019 LAND COST
FROM
$700
PER PERSON
NOTE:
Our Classic 4D/3N Inca Trail Trek includes porter to carry up to 5kg of your belongings.


Thank you for choosing Salkantay Trekking! We will do everything within our means to take care of you and ensure an enjoyable trip of a lifetime in Peru!
Hiking Team
OUR HIKING TEAM
Our Tour Guides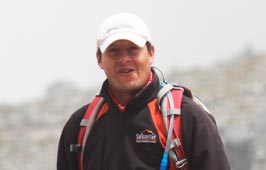 Your tour will be led by a trained and highly experienced professional with a very solid guiding background, years of hiking and wilderness experience, medical certifications, and a passion for leading people into unforgettable adventures.
They never stop learning so that they can be the best possible guides. They all speak English and of course they also speak Spanish and even Quechua, the Incan Language. They are all able to communicate with natives from around the area and will have lots of history to share with you. Check out the
Meet Our Team page for staff bios
.
---
Our Cooks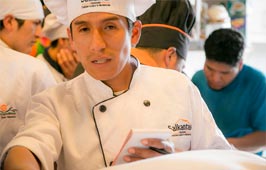 After a challenging trek we know how important a good hot meal can be to prepare your body and warm you up. That's why on every trek with Salkantay Trekking we employ chefs with years of experience cooking on the trails so that they provide filling and nutritious meals using fresh ingredients and a variety of flavors.
Every chef prepares different meals depending on what food is available.
...More info.
---
Meals: What to Expect
All of our hiking tours include a diversity of tasty meals packed full of critical carbohydrates, proteins and fats. We carry foods that travel well in the backcountry – rice, pastas, lentils, beans, couscous, packaged meats, nuts, breads, oatmeal, granola, and more.
For optimal taste and energy, we supplement all our meals with spices, herbs, oils, cheeses, butter, sugar, fruits and vegetables (fresh and dried). In addition, we provide you with an assortment of trail mix, snacks, and dried fruits to eat at your own discretion.
We regularly accommodate vegan, vegetarian, kosher and non-gluten diets and will make adjustments for food allergies. These and other special dietary requests may require an additional fee.
...More info.
---
Our Horseman and Horses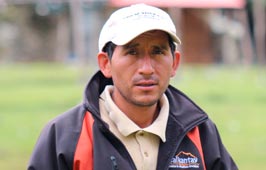 Our Horseman and his horses are in charge of all our gear and will always await us within the safe and comfortable camp sites.
Our horsemen are hired from the areas where the trekking route goes and therefore have extensive knowledge of the area.
Besides trekking and camping gear every horse carries a total of 40 kg of guest's belongings.
You will have a personal allowance of 7kg/165lb for your gear.
...More info.
Book Now
Please complete the form below to request a reservation. One of our Trip Coordinators will contact you, often within two business hours, to confirm availability of the trip and/or provide you with other options. Once availability is established, we will ask for a deposit and a completed online registration to confirm your spot on the trek. Please call us at (+51) 958191179 with any questions or to confirm availability over the phone.
"Thank you for considering salkantay, Unfurtnately due to the rainy season and trail maintanance we will be closed from the 31st of January till the 28st of February. We apologize for any inconvenience this may cause you, we are working to provide you a better service !"
Privacy Policy:
The Salkantay Trekking Company will never share, sell, or make public any of your personal contact information to third parties.
THANK YOU SO MUCH FOR CHOOSING SALKANTAY TREKKING!!