Overview
The Inca Jungle Trail of biking and trekking is not a simple alternative option to the classical Inca trail, it is the most original adventure that takes you to Machu Picchu. We will follow recently discovered trails. This tour is recommended for people of all ages that have a big sense of adventure, curiosity, and energy!
At a glance
DAY 1: Cusco - Ollantaytambo - Abra Malaga - Santa Maria.
DAY 2: Santa María - Santa Teresa
DAY 3: Santa Teresa - Llactapata - Hidroelectrica – Aguas Calientes
DAY 4: THE MOST IMPORTANT DAY – MACHU PICCHU!
Trekking Map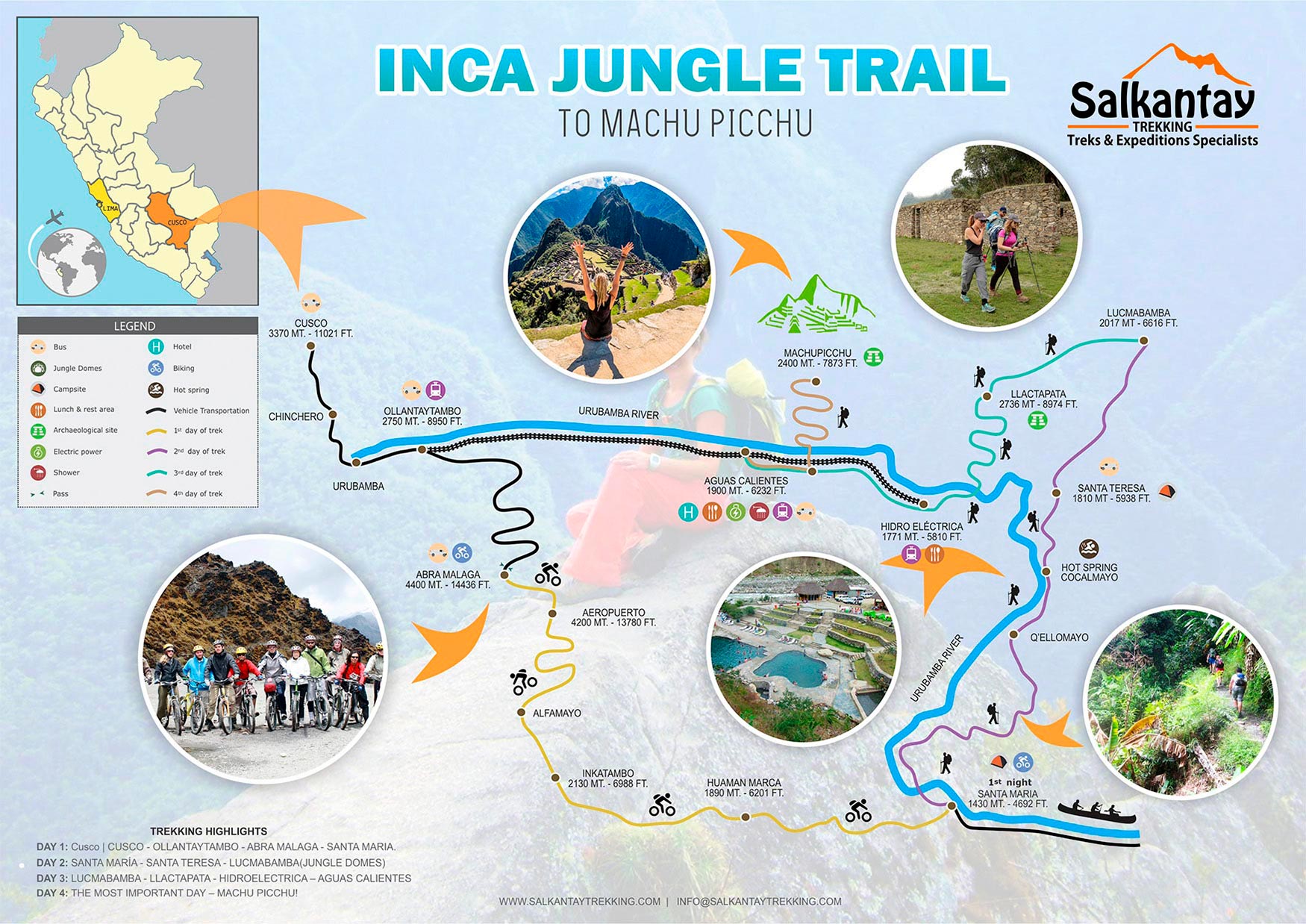 Itinerary
Full Itinerary
Cusco - Ollantaytambo - Abra Malaga - Santa Maria.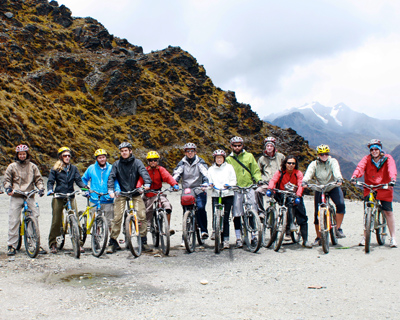 The tour starts off with pick-up from your hotel at 7:00 AM to begin driving up to the Sacred Valley of the Incas. Along the way, we will be able to see the beautiful, sweeping views of the region! We will arrive to Abra Malaga (4316 MASL – 14160 FASL) around noon; this is the place where we start our great adventure on bikes, heading toward the high jungle for about 5 hours.
If you don't like the idea of going downhill on a bike, you can travel comfortably sitting in the van behind the group that is biking. All your stuff will be held in the van for you.
During the adventure, we will pass by small towns, rivers, planting fields, and streams that end in the arqueological site of Huamanmarca where we will have some free time. We will continue on bikes or in the van until we arrive at the town of Santa Maria where we will sleep in the home of a local family.
Shuttle to Abra Malaga: – 3.5 hour by bus from Cusco
Biking time: – 3.5 to 4 hour approximately.
Maximum Altitude – 4350 meters ASL / 14271 feet ASL
Minimum Altitude – 1575 meters ASL / 5167 feet ASL
Difficulty: Easy
Meals: Lunch, and Dinner
Accommodation: Sleeping in the home of a host family in Santa Maria
Adventure: Absolutely! You will be in the middle of the Andes and tropical forest.
Santa María - Santa Teresa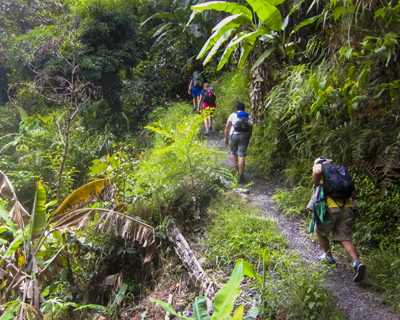 We will wake up around 6:00 AM to have breakfast, and then we will continue our journey walking next to the river. This day, the trekkers will be carrying their luggage while they are trekking.
We will climb a mountain for approximately 1 hour and 30 minutes until we arrive to the highest point where we will admire the beautiful view of the Sacred Valley and the canyon. Part of this trek includes over the trails of the original Inca trail that leads to the village of Quellomayo. Around noon, we will have a delicious lunch and, after lunch, we will take a brief rest before we continue our trekking along the old highway until we arrive at Santa Teresa.
Walking Distance – 7 hrs (12 km.)
Starting Elevation – 1575 meters ASL / 5167 feet ASL
Campsite Elevation – 2400 meters ASL / 7874 feet ASL
Difficulty: Easy
Meals: Breakfast, Lunch, and Dinner
Comfortable Accommodations
Adventure: Absolutely! You will be in the middle of the tropical forest you have dreamt about!.
Santa Teresa - Llactapata - Hidroelectrica – Aguas Calientes
Today's Highlights: Today something particularly special happens – we get to travel along part of the famous Inca Trail! On this path, we will come to the impressive archeological site of Llactapata right in front of its more well-known big brother, Machu Picchu. You will meet some of the native people who live their day-to-day lives in the area. Along the path you will have the opportunity to harvest several fruits while relishing in one of the best views of the Urubamba valley! Don't forget to turn around and see Apu Salkantay again in the background before you look forward to have your first glance at the glorious Machu Picchu!
Like previous mornings, the chef of the trek will wake you up early with a hot cup of coca tea served in your bed. You will get ready for today's activities while enjoying your last prepared breakfast by the talented trek chef. We will begin the hike early, and you will have the opportunity to enjoy a small part of the famous and highly-acclaimed Inca trail! After a climb of 2 hours with amazing views of the Santa Teresa valley we will arrive at the Llactapata Inca site right in front of Machu Picchu. This will be the first archaeological site we will see of the mysterious Lost City of the Incas! It is a very special place to enjoy together and spend time learning a bit more about this land's roots and history. We will be able to see not only the ruins of Machu Picchu from this spot, but also Huayna Picchu and Machu Picchu Mountain. We will explore this Inca site with the guide, and he will continue telling the history of the Incas who used and worshipped this land. Of course, you will have plenty of time to take as many photos as you want to capture these memories and share with your friends back home!
After the Llactapata ruins, we will continue our trek with a 2-hour downhill hike. On this part of the trail, you are always able to view Machu Picchu until we arrive at the Hidroelectrica train station to have lunch. One of the most impressive sites in this area is the 300-meter-tall natural waterfall which generates electricity for the entire region of Cusco! After lunch, we will arrive at Intiwatana, a famous ancient rock used as a sundial in the Incan era. According to history, Intiwatana worked together with the famous sundial stone in the Machu Picchu site.
The people used these two stones to measure and read the winter solstice, which was the beginning of the new farming season for the Incas. After passing this interesting Inca site, we will reach train tracks which lead to the town of Aguas Calientes.
Here you will have two options:
1) If you are exhausted, you may take the train to Aguas Calientes ($34.00 extra).
2) If you are still eager to hike, you may walk from Hidroelectrica to Aguas Calientes for about 3 hours along the train track. Next to the tracks, there is a nice path we will through the warm paradise of the cloud forest. This is the same trail used by the American professor Hiram Bingham who rediscovered Machu Picchu after centuries of it being lost to the outside world!.
Note: During the rainy season, the hike up the Llactapata Trail is not 100% guaranteed due to safety concerns. When heavy rains are frequent, this trail becomes very dangerous.
Walking Distance – 18 km / 11.2 miles
Starting Elevation – 2450 meters ASL / 8038 feet ASL
Campsite Elevation – 2000 meters ASL / 6561 feet ASL (Aguas Calientes hostel)
Difficulty: Moderate
Meals: Breakfast, Lunch, and Dinner (Plus snacks and afternoon tea time)
Accommodation: Comfortable Hostel
Adventure: Moderate-High! How could it not be an adventure travelling back in time to visit with the Incan people?!
THE MOST IMPORTANT DAY – MACHU PICCHU!
Today's Highlights: Your excitement for our rendezvous at Machu Picchu will rise as we are hiking early in the morning through the forest to reach the site before most other tourists – even the Inca Trail trekkers!! You will have plenty of time to explore this truly magnificent World Wonder while you enjoy the beautiful sunrise from this once-in-a-lifetime viewpoint. Your group will learn about this mystical place in a two-hour guided tour of the ruins. Afterwards, you can opt to climb Huayna Picchu or Machupicchu Mountain (if you have pre-booked tickets) or walk to the Sun Gate or Inca Bridge (without extra tickets).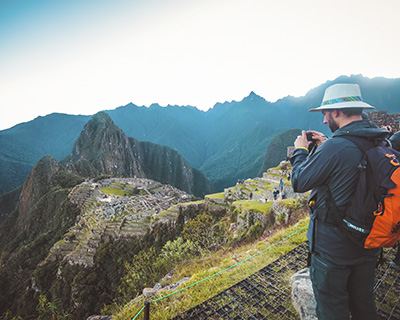 Today we arrive at the long-awaited finale of our trek, one of the New 7 Wonders of the World and a UNESCO World Heritage Site – Machu Picchu! We will wake up early after a refreshing night at our hostel to beat the crowds to the top of Machu Picchu and enjoy its serenity in the soft morning light. The Machu Picchu entrance check point is open from 06:00 AM until 17:00 PM. Here we will have a 2.5-hour guided tour through this incredible ancient city to visit temples, terraces, palaces, priest's houses, the sundial, the industrial sector, and the farming fields. Be amazed at the engineering ingenuity of the Incas which was so far ahead of their time and still partially a mystery today! Without having modern tools or even steel and iron to work with, the people who built this city were genius in organizing this community in a sustainable and beautiful way on the side of a mountain, even bringing water in canals through its streets for the people to use. When a Peruvian guide showed this site to Hiram Bingham, it was almost unrecognizable, covered in thick vegetation and in a state of disrepair. It has since been cleaned and restored and is now protected and treasured by the world at large!
After this tour, you are free to climb up to Huayna Picchu (the top of the mountain we see in all the Machu Picchu pictures; 2720 MASL/8890 FASL) or Machu Picchu Mountain (Be sure to book in advance to get tickets for these!). Huayna Picchu hike is a 50 minute hike up and 50 minute hike down. Machu Picchu mountain takes approximately 3 hours to hike up and down. Another lower-impact option for which you do not need an extra ticket is to trek to the Sun Gate, the main entrance from the Inca Trail (this takes about 2 or 2.5 hours round-trip). Another option is walking to see the Incan Bridge. You will be able to stay and enjoy this magical city for as long as you need before hiking back down to Aguas Calientes. If you go down early enough, you can have lunch (it is not included but it can be added up to the package), visit the hot springs in town, go to a museum, or shop at the artisan market. We will take our train ride at 16:22 hrs (subject to availability) to Ollantaytambo. A private bus will pick up our group and drop you off at your hotel in Cusco at about 20:00 hrs. Rest your feet and your body now, but we can assure you your heart will still be soaring for weeks and years to come!
Total time of the hike: 2:15hrs (6 km) - Initial Altitude 2650 MASL – 8694 FASL; Final 2,400 MASL – 7876 FASL
Trip by train back to Ollantaytambo, Trip by bus de back to Cusco and transportation to your hotel.
The prices of this tour are organized in function to the number of people in your group (the more people the lower the price).
Activity Overview: Touring Machu Picchu with optional hike
Activity Level: Touring: easy, hike: strenuous
Activity Length: 2-5 hours exploring and optional 2-3 hour strenuous hike; Machu Picchu is at 7,972' elevation
Included
What is Included?
Professional tourist guide (English or Spanish and assistant for groups larger than 9 people)
transportation: Airport – Hotel - Airport
The tour starts and ends in your hotel in Cusco
Van trip: Cusco – Abra Málaga – Santa Maria
The train trip: Aguas Calientes – Ollantaytambo
Trip in van: Ollantaytambo – Cusco
Bikes and biking gear
Entrance tickets to Machu Picchu
3 nights in hostels: Santa Maria, Santa Teresa and Aguas Calientes
Foods (B= breakfast,  L= lunch (box lunch), D= dinner). It does not include lunch of day 4.
Vegetarian food is available without extra cost
Not Included:
International or national flights
Tips or additional money spent
What you should pack for this tour:
Original passport
Hiking shoes, rain jacket, t- shirts, pants
Hat for the sun, sunscreen, insect repellent, hand sanitizer and cosmetics
Water and personal medicines
Short pants, band aids, extra money, bathing suit
Camera, flashlight
It is recommended to have travel insurance
+ Info
Important information for the Inca Jungle
Please read carefully the following information – it will help you with any questions you may have about our services.
THE BRIEFING
This meeting will take place the night before the trek's departure at 6 PM at our office which is located at Triunfo Street 346. We are 1 block from the Main Square (Plaza de Armas) of Cusco.
WHAT ABOUT THE BALANCE?
It would be greatly appreciated if you pay in cash at our office (US dollars or Peruvian soles) here in Cusco. We have many cash machines in the historical center to withdraw money. You can also pay by VISA or PAYPAL online but you will have to pay a 8% service charge, charged by VISA and PAYPAL. To pay your balance through PAYPAL, you need to log into your PAYPAL account using our email address of ventas@salkantaytrekking.com
DUFFEL BAG FOR Inca Jungle trail 4 Days
The evening before you start your trek, you will be given a SMALL DUFFLE BAG to pack your clothes for the next four days. Your weight allowance is up to 7 kg/15.4 lbs. Our horseman will carry your duffle bag for you together with the food and camping gear. It is important to be aware that you will not have access to your items in the duffle bag until the end of each day as the horsemen and horses will always be ahead of the group. During the travel, you need a day backpack big enough to carry your personal belongings such as a warm jacket, raincoat, camera, sunscreen, snacks, water, etc. Usually, a 30 to 50 litre backpack is sufficient.
CAN I STORE MY LUGGAGE AT YOUR OFFICE?
Of course! During the travel, your main luggage can be stored at our office or at your hotel, both free of charge.
HOW TO BOOK THE Inca Jungle trail 4 Days
FIRST To make a booking, please email us to check availability and receive customized booking forms. You can also download a generic form from:
All clients will need to fill out a Passenger Details form.
Please be ready with the following information (FROM EACH PARTICIPANT in your group). We cannot purchase any Inca Jungle trail 4 Days permits or entrance tickets without the following information:
Personal information (Full name, exactly as on your passport):
Gender
Passport number
Date of birth (dd / mm / yyyy)
Nationality
Hiking Team
Price
2021 LAND COST
FROM
$400
PER PERSON
Book Now
Please complete the form below to request a reservation. One of our Trip Coordinators will contact you, often within two business hours, to confirm availability of the trip and/or provide you with other options. Once availability is established, we will ask for a deposit and a completed online registration to confirm your spot on the trek. Please call us at (+51) 958191179 with any questions or to confirm availability over the phone.
"Thank you for considering Salkantay Trekking, unfortunately, due to the rainy season and trail maintenance, we will be closed from the 31st of January till the 29st of February. We apologize for any inconvenience this may cause you, we are working to provide you a better service!"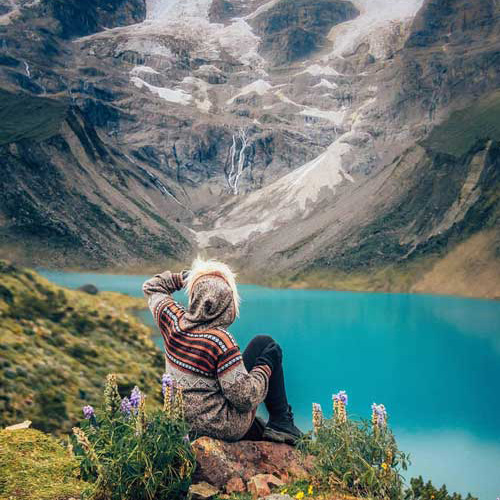 Privacy Policy:
The Salkantay Trekking Company will never share, sell, or make public any of your personal contact information to third parties.
THANK YOU SO MUCH FOR CHOOSING SALKANTAY TREKKING!!