Online Payment
by Visa
Purchase Number (Número de Compra)
SALKANTAY TREK
1000 .- Salkantay Classic 5 Days
1001 .- Salkantay Short 4 Days
1002 .- Salkantay Challenge 3 Days
1003 .- Salkantay Imperial 8 Days
1004 .- Salkantay & Inca Trail 7 Days
1005 .- Salkantay Honeymoon Trek 5 Days
INCA TRAIL
2000 .- Classic Inca Trail 4 Days
2001 .- Short Inca Trail 2 Days
HUCHUY QOSQO
3000 .- Huchuy Qosqo to Machu Picchu 3 Days
3001 .- Huchuy Qosqo & Patabamba 2 Days
3002 .- Huchuy Qosqo Trek 1 Day
CHOQUEQUIRAO
4000 .- Choquequirao to Machu Picchu 8 Days
4001 .- Choquequirao to Machu Picchu 7 Days
4002 .- Choquequirao Classic 4 Days
4003 .- Choquequirao Express 5 Days
LARES
5000 .- Lares trek to Machu Picchu 4 Days
ONE DAY TOURS
6000 .- Machu Picchu One Day Tour
6001 .- City Tour Cusco - Half Day
6002 .- Sacred Valley of the Incas - 1 Day
6003 .- Ausangate Rainbow Mountain - 1 Day
6004 .- Humantay Lake - 1 Day
6005 .- Salkantay & Humantay Lake 2 Days
INCA JUNGLE
7000 .- Inca Jungle 4 Days
For all of our treks and tours we require an initial deposit per person, the balance is payable when you arrive to Cusco.
Please note that all of our tours are priced in US currency.
*Visa charges us a fee of 5% for the international transfer which we ask the client to cover. Please add the 5% to each deposit, thank you!
STEP 1
Enter to the following link:
It will appear an empty form for you to fill it (write correctly your email).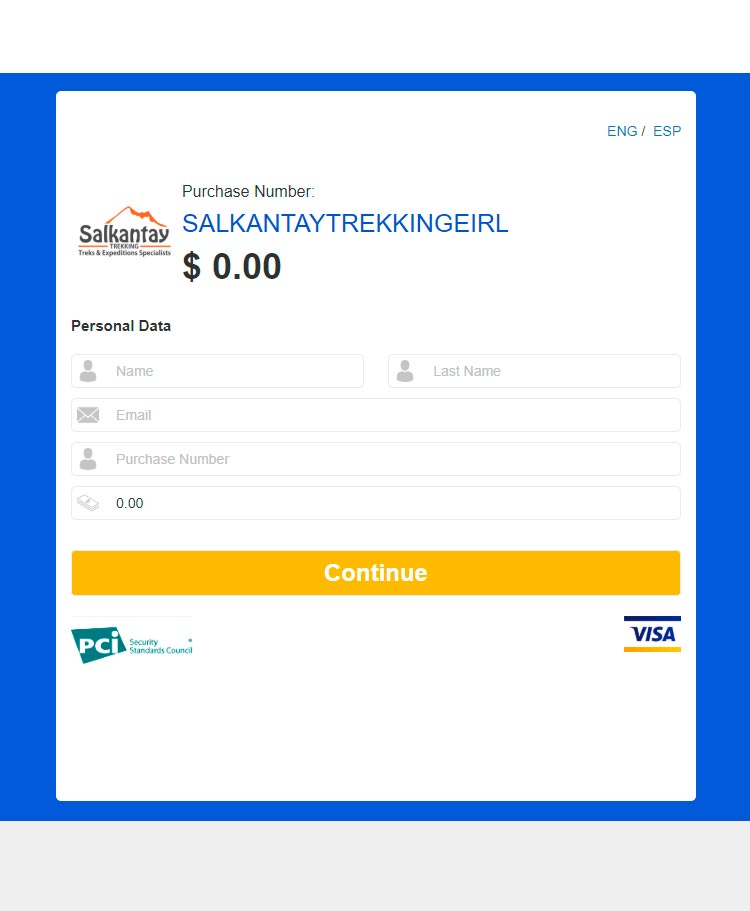 What makes these trips different?
We believe that a vacation should be more than a hotel room, a flight and a rental car. It should be more than the sum of its parts. We also believe a challenge can help you grow and a trip can stir the soul. We create journeys worth taking - for the traveler, for the host and for the world.