Tour Duration
01
Day
Rainbow Mountain Trek
Rainbow Mountain - full day tours
Departure: Cusco (03:30 - 04:00 hrs)
Destination: Rainbow Mountain
Language: English / Spanish
Amount of Walking: Moderate
Tour operates on the following days:
Mon
Tues
Wed
Thurs
Fri
Sat
Sun
Season 2018 (01 Jan. - 31 Dec.)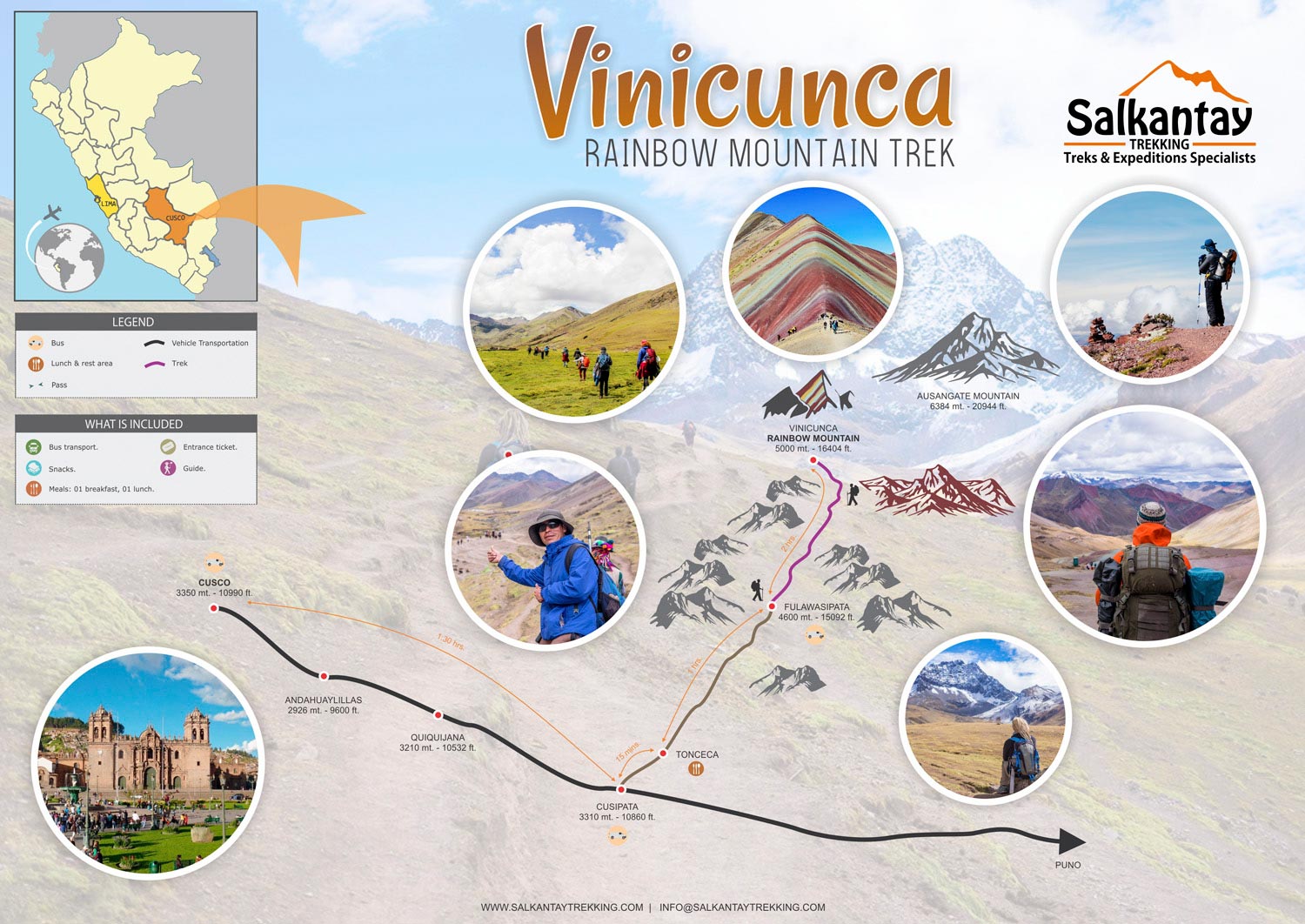 TREKKING MAP
Surprise yourself with a destination like no other: Rainbow Mountain! Vinicunca Mountain offers you a dream-like landscape with the colors of the rainbow all stacked on top of one another for you to see like a multicolor mantle or a reflection of a rainbow on Earth. Vinicunca can be admired all year-round.
The peak of this hike is at approximately 5000 MASL (16400 FASL) and can be reached after a four-hour walk from the base camp. The radiant sun will accompany you all along the route and so will families of sheep, horses, and camelids like llamas and alpacas.
The imposing mountain landscape is sure to be the protagonist of your photographs.
DAY 1: Cusco | Rainbow Mountain Trek – Full Day Tour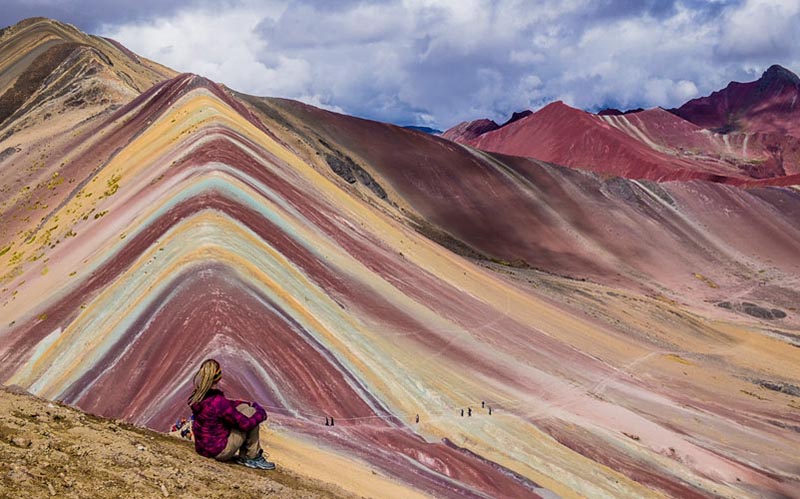 Rainbow Mountain Trek
The adventure begins very early with our team picking you up from your hotel at 03:30 - 04:00 hrs and heading to the small community of Pitumarca (located south of Cusco). In Pitumarca, we will make a stop to grab some last-minute items like water, drinks, snacks, sun block, etc. The drive to Rainbow Mountain allows for some gorgeous, sweeping views through the car windows as we ascend from valley to the base camp of our hike!
Our Andean breakfast will be at approximately 06:30 hrs.
SALKANTAY TREKKING
will have all food prepared and ready for you to enjoy before we start the trek so that you will have energy and stamina to continue! With the sun finally awake to light our path, we will begin trekking in the quiet and remote landscapes of the Cusquenian puna. You will trek at your own pace, enjoying in detail the flora of the Andes and breathing in pure, unpolluted Andean air.
The trail crosses through untouched nature with just a few Andean communities scattered in the mountains. Along the path, we will go between towering, colorful mountains, across small streams, and beside lakes reflecting all the beaty around them. The entire day, you will be under the watchful eye of the
APU AUSANGATE
.
This trek is a particularly special treat for any adventurous traveler. In a few places around the world, history has left this artistic mark of change for us to marvel over today. It seems as if the different mineral layers of the earth were, at one point, turned up on their sides in a huge phenomenon of nature, and now the landscape seems like something out of a dream or fairy tale!
At approximately 11:00 hrs, we will reach Vinicunca's summit. The dazzling view of the striped Rainbow Mountain will reward all 4 hours of effort to reach its summit, leave you without words and, better yet, leave you with no regret for having done our Rainbow Mountain Trek. Once at the top, you will have time to take as many photographs as you would like or just sit and take in the panoramic view of the surrounding multi-colored mountains and valleys!
For your return, we will use the same route. You will walk back to the community of Pitumarca where a car will be waiting to bring you back to Cusco after we eat lunch. Arrival time in Cusco will be approximately at 19:00 hrs.
What is Included?
Transportation: Cusco – Chilca – Cusco
Professional and experienced guide licensed in tourism (English and/or Spanish)
Entrance ticket to Rainbow Mountain
Meals: 01 breakfast, 01 lunch
Waterproof layer for rainy season
Snacks
Not Included:
Water
Trekking poles
Meals: 01 dinner, snacks
---
RECOMMENDATIONS:
1-liter water bottle
Hat, sun block, sunglasses
Extra layers for the cold and wind
Trekking poles
Trekking shoes/boots
Snacks (i.e. dried fruit, chocolates, granola bars, nuts, etc.)
Price
2018 LAND COST
FROM
$100.00
PER PERSON
Book Now
Please complete the form below to request a reservation. One of our Trip Coordinators will contact you, often within two business hours, to confirm availability of the trip and/or provide you with other options. Once availability is established, we will ask for a deposit and a completed online registration to confirm your spot on the trek. Please call us at (+51) 84 635 038 with any questions or to confirm availability over the phone.
"Thank you for considering salkantay, Unfurtnately due to the rainy season and trail maintanance we will be closed from the 31st of January till the 28st of February. We apologize for any inconvenience this may cause you, we are working to provide you a better service !"
Privacy Policy:
The Salkantay Trekking Company will never share, sell, or make public any of your personal contact information to third parties.
THANK YOU SO MUCH FOR CHOOSING SALKANTAY TREKKING!!
Thank you for choosing Salkantay Trekking! We will do everything in our power to take care of you and ensure an enjoyable trip of a lifetime in Peru!