Express Choquequirao Trek 5 Days
The name Choquequirao means Cradle of Gold. It is located above the raging.
DESCRIPTION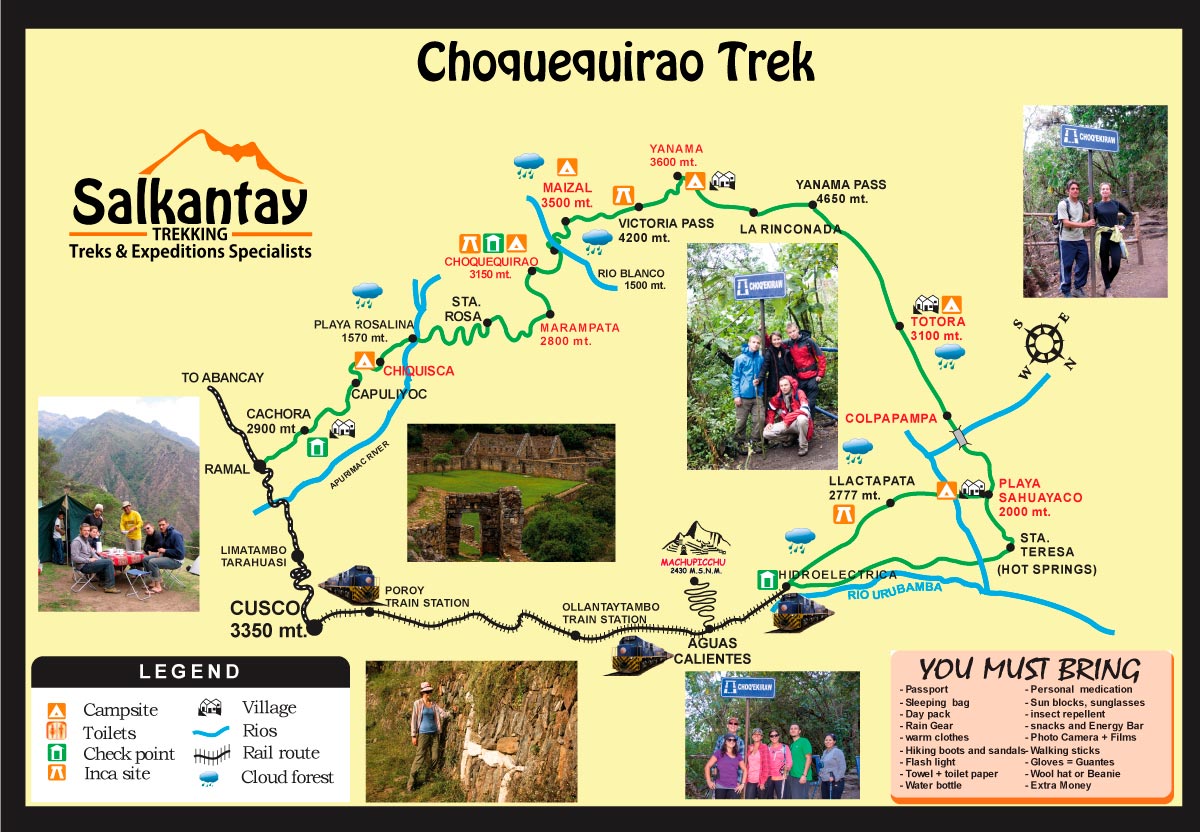 TREKKING MAP The name Choquequirao means "Cradle of Gold." It is located above the raging, glacier-fed Apurimac River and surrounded by towering, snow-capped peaks and seated on a high ridge. Choquequirao is a remote and rarely visited "lost city of the Incas." This Incan archaeological site is considered the sister of Machu Picchu. It is lesser known but three times larger than Machu Picchu. It was one of the last refuges for those Incans who continued to resist Spanish occupation after the conquest. The site was eventually abandoned and became covered by dense cloud forest vegetation and, to this day, archeologists continue to discover new sectors of the city.
On this adventurous trek into the world of the past, we will walk on Incan highways, hike through high Andean landscapes with majestic glaciers, descend into deep canyons where the condors fly, and pass through biologically diverse cloud forest ecosystems. You will also see native animals such as Andean Condors, other smaller local birds, and native flora and fauna including orchids and so much more!
Itinerary
Full Itinerary
DAY 1: Cusco | Capuliyoc – Playa
Meals
: Lunch – Afternoon Tea Time – Dinner
Accommodation:
Camping
Minimum altitude:
1550 MASL – 4650 FASL
Maximum altitude:
3100 MASL – 9300 FASL
Distance:
14 km – 9 miles
Time:
5 hours (approximately)
Difficulty:
Easy
At 5:30 AM, we pick you up from your hotel and then drive 4 hours in our private van to Capuliyoc (3100 MASL – 10170 FASL). Along the way, there are spectacular views of villages, valleys, and snow-capped mountains. Once we arrive, we will meet our horsemen who will pack all of our equipment onto the cargo horses. From here, we can enjoy the spectacular view of the Choquequirao Incan ruins, the Apurimac canyon, and the stunning, snow-capped mountains like Padreyoc (5571 MASL – 18387 FASL). We will then hike downhill for 3 hours to Chikisca for lunch. After lunch, we continue on for 2 more hours downhill to our first camp at La Playa Rosalinas.
DAY 2: Playa | Maranpata – Choquequirao
Meals:
Breakfast – Lunch – Afteroon Tea Time – Dinner
Accommodation:
Camping
Minimum altitude:
1550 MASL – 4650 FASL
Maximum altitude:
3100 MASL – 9300 FASL
Distance:
16 km - 10 miles
Time:
5 hours (approximately)
Difficulty:
Easy
After an early breakfast, we cross the bridge and hike for the next 4 hours all the way up to Marampata where we will have lunch while enjoying the view of the Choquequirao ruins once again. After lunch, we walk to our second evening's campsite, just 20 minutes from the ruins. Being so close to the ruins, we can enjoy our view of the ruins into the late evening and watch for condors flying above.
DAY 3: Choquequirao
Meals:
Breakfast – Lunch – Afternoon Tea Time – Dinner
Accommodation:
Camping
Minimum altitude:
1550 MASL – 4650 FASL
Maximum altitude:
3100 MASL – 9300 FASL
After breakfast, we will visit the magnificent archeological site of Choquequirao for the entire day. Enjoy the private guided tour and explore all of the beautiful city sections: temples, terraces, palaces, llamas' quarters, and much more. We will return to the same campsite for tea and to spend the night.

Choquequirao means "Cradle of Gold" in Quechua - the language of the Incas - although this is probably not its original name. It is another "Lost City of the Incas" rediscovered officially late in the 20th century. It is located high on a ridge spur almost 1750 meters/5741 feet above the raging, glacier-fed Apurimac River and is surrounded by the towering Salkantay and Humantay snow-capped peaks. Excavations and restoration of the 1810-hectare site began in the 1990s, and it is estimated that only 30% of the site has been restored to date. Every day archeologists are finding new things.
DAY 4: Choquequirao | San Ignacio – Villa De Loros
Meals:
Breakfast – Lunch – Afternoon Tea Time – Dinner
Accommodation:
Camping
Minimum altitude:
1450 MASL – 4350 FASL
Maximum altitude:
3100 MASL – 9300 FASL
Distance:
16 km – 10 miles
Time:
6 hours (approximately)
Difficulty:
Moderate
Today is one of the easier days of our trek. We will walk downhill for 2 hours to the magnificent Apurimac River (1450 MASL – 4787 FASL). We then cross a bridge and walk uphill for 1 hour to San Ignacio for lunch where we can enjoy the beautiful scenery and a great waterfall! After lunch, we take a moderate uphill trek through a beautiful valley toward Villa de Loros (Town of Parrots) (2600 MASL – 8580 FASL) where we set up camp for the last evening.
DAY 5: Villa De Loros | Saywite – Conoc – Cusco
Meals:
Breakfast – Lunch
Today is a relaxing and cultural day on our trek. After enjoying a delicious breakfast, we take private transport to the archeological site of Saywite where we will explore an Incan monolith, several water fountains, and ritual platforms. After spending time enjoying the site, we drive to the hot spring of Conoc to relax after several days of walking. After lunch, we head back to Cusco, dropping you at your hotel.
Included
Included / Not Included
What is Included?
Collection from your hotel in the morning
Transportation by bus to the start of the trail (Cachora)
English speaking professional guide
The north face or Eureka tents - 2 persons
Double thickness foam mattress
Kitchen tent, Dining tent with camp tables and chairs
First aid kit including emergency oxygen bottle
Choquequirao Inca Site entrance fee
Hot water every morning and evening for washing purposes (while hiking)
Cook and Cooking equipment
Excellent Meals (03B,04L,03D + 04 morning snacks)
food includes pancakes, omelets, soups, fresh fruit, avocado, pasta, chicken, fish, meat, rice, all rich in carbohydrates and suitable for trekking, hot drinks including coca leaf tea which is excellent for the altitude
We supply boiled water to fill in your water bottle all the time,(while hiking) if you may need more, please request it with enough time ahead to your crew
Teatime the first three days (tea, coffee, biscuits, popcorn)
Horses days 1-4 (for equipment and personal items, actually your main heavy stuff, will be carried by the horses, it means you only will carry a small day bag, day by day, we included 
Private Bus returning from Cachora Town to Cusco City
Transfer to your hotel
Not Included:
Sleeping bag
Day 1: Breakfast
Lunch and Dinner on the last day
Walking Sticks: you can hire from our company
Inflatable mattresses
Tips: Please note that our agency staff is well paid so please feel free to tip or not as you wish
What to Bring:
Backpack with rain shelter.
Sleeping back.
Clothing for warm and cold climate like a waterproof jacket.
Rain pants and lightweight pants.
Trekking shoes.
Slippers or sandals (for showers and hot springs).
Woolen or synthetic socksand a sweater.
Long- and short-sleeved polo's/T-Shirts.
Rainponcho cold and sun hat.
Sunscreen, insect repellent, disinfecting alcohol and gel, water bottle and sterilizing tablets, toiletries and toilet paper.
Camera (wrapped in plastic bag), a flash light and batteries.
Some snacks like chocolate bars and dry fruit.
Extra money in soles (s/ 400.00 soles) emergency case and tips.
Since the weather can be very cold and mostly, your clothes - once gotten wet - won't dry at night. So take some clothes to change.
+ Info
Important information for the Choquequirao Trek
Please read carefully the following information – it will help you with any questions you may have about our services.
IS IT FOR ME?
The Salkantay Trek to Machu Picchu is a great alternative for the Inca Trail trek and better suited for more adventurous trekkers who are able to handle higher altitude and longer distances. Ascending to reach the famous Apacheta Pass at 4650 MASL - 15088 FASL is not too strenuous since it is at the beginning of the trek, neither is it very steep, but it does require stamina and a little time in Cusco to acclimatize to the altitude before beginning the trek.
THE BRIEFING
This meeting will take place the night before the trek's departure at 6 PM at our office which is located at Triunfo Street 392, Office 212 (second floor). We are 1 block from the Main Square (Plaza de Armas) of Cusco.
WHAT ABOUT THE BALANCE?
It would be greatly appreciated if you pay in cash at our office (US dollars or Peruvian soles) here in Cusco. We have many cash machines in the historical center to withdraw money. You can also pay by
VISA
or
PAYPAL
online but you will have to pay a 8% service charge, charged by
VISA
and
PAYPAL.
To pay your balance through
PAYPAL,
you need to log into your
PAYPAL account using our email address of ventas@salkantaytrekking.com
DUFFEL BAG FOR Choquequirao Trek 5 Days
The evening before you start your trek, you will be given a SMALL DUFFLE BAG to pack your clothes for the next four days. Your weight allowance is up to 7 kg/15.4 lbs. Our horseman will carry your duffle bag for you together with the food and camping gear. It is important to be aware that you will not have access to your items in the duffle bag until the end of each day as the horsemen and horses will always be ahead of the group. During the travel, you need a day backpack big enough to carry your personal belongings such as a warm jacket, raincoat, camera, sunscreen, snacks, water, etc. Usually, a 30 to 50 litre backpack is sufficient.
CAN I STORE MY LUGGAGE AT YOUR OFFICE?
Of course! During the travel, your main luggage can be stored at our office or at your hotel, both free of charge.
HOW TO BOOK THE Choquequirao Trek 5 Days
FIRST
To make a booking, please
email us
to check availability and receive customized booking forms. You can also download a generic form from:
All clients will need to fill out a
Passenger Details form.
Please be ready with the following information (FROM EACH PARTICIPANT in your group). We cannot purchase any
Choquequirao Trek 5 Days
permits or entrance tickets without the following information:
Personal information (Full name, exactly as on your passport):
Gender
Passport number
Date of birth (dd / mm / yyyy)
Nationality
SECOND,
we require a deposit of
US$240
per person in order to purchase a permit for the
Choquequirao Trek 5 Days
. You can make you deposit by clicking on the
VISA
or
PAYPAL.
Hiking Team
Our hiking team
Our Tour Guides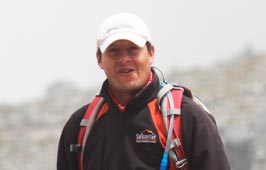 Your tour will be led by a trained and highly experienced professional with a very solid guiding background, years of hiking and wilderness experience, medical certifications, and a passion for leading people into unforgettable adventures.
They never stop learning so that they can be the best possible guides. They all speak English and of course they also speak Spanish and even Quechua, the Incan Language. They are all able to communicate with natives from around the area and will have lots of history to share with you. Check out the
Meet Our Team page for staff bios
.
---
Our Cooks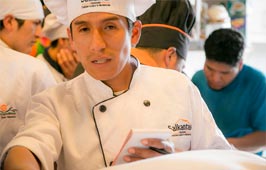 After a challenging trek we know how important a good hot meal can be to prepare your body and warm you up. That's why on every trek with Salkantay Trekking we employ chefs with years of experience cooking on the trails so that they provide filling and nutritious meals using fresh ingredients and a variety of flavors.
Every chef prepares different meals depending on what food is available.
...More info.
---
Meals: What to Expect
All of our hiking tours include a diversity of tasty meals packed full of critical carbohydrates, proteins and fats. We carry foods that travel well in the backcountry – rice, pastas, lentils, beans, couscous, packaged meats, nuts, breads, oatmeal, granola, and more.
For optimal taste and energy, we supplement all our meals with spices, herbs, oils, cheeses, butter, sugar, fruits and vegetables (fresh and dried). In addition, we provide you with an assortment of trail mix, snacks, and dried fruits to eat at your own discretion.
We regularly accommodate vegan, vegetarian, kosher and non-gluten diets and will make adjustments for food allergies. These and other special dietary requests may require an additional fee.
...More info.
---
Our Horseman and Horses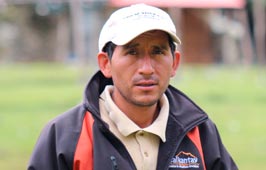 Our Horseman and his horses are in charge of all our gear and will always await us within the safe and comfortable camp sites.
Our horsemen are hired from the areas where the trekking route goes and therefore have extensive knowledge of the area.
Besides trekking and camping gear every horse carries a total of 40 kg of guest's belongings.
You will have a personal allowance of 7kg/165lb for your gear.
...More info.
Price
2020 LAND COST
FROM
$480
PER PERSON
Book Now
Please complete the form below to request a reservation. One of our Trip Coordinators will contact you, often within two business hours, to confirm availability of the trip and/or provide you with other options. Once availability is established, we will ask for a deposit and a completed online registration to confirm your spot on the trek. Please call us at (+51) 958191179 with any questions or to confirm availability over the phone.
"Thank you for considering salkantay, Unfurtnately due to the rainy season and trail maintanance we will be closed from the 31st of January till the 28st of February. We apologize for any inconvenience this may cause you, we are working to provide you a better service !"
Privacy Policy:
The Salkantay Trekking Company will never share, sell, or make public any of your personal contact information to third parties.
THANK YOU SO MUCH FOR CHOOSING SALKANTAY TREKKING!!