Lima is the one and only South American capital with a view of the sea and, oh, is it special! We're talking about a multicultural place brimming with exciting, unique attractions.
Lima is the most populated city in Peru, by far, bringing together people from the beach, mountains, desert and jungle as well as international residents and visitors from so many other countries (and continents). As the melting pot of the country, this lively city can offer entertainment for any type of traveler.
What to do in Lima, Peru? I'll help you out here with the best ways to spend your valuable time in this oceanside city full of surprises. Dare to live new experiences in the City of the Kings!
1. Historic Center of Lima
The historic center of Lima is a UNESCO World Heritage Site, and that says a lot. That means it ranks among places like the Galapagos Islands, the Aachen Cathedral, Mesa Verde and Yellowstone National Parks, Angkor Wat, the Taj Mahal, the Great Barrier Reef, Old Havana, and Cinque Terre. You can't miss it! Here are the best parts:
Main Square
Take a stroll around the main plaza of the city, and you'll stumble upon the palace, the cathedral and several other colonial buildings, each with its own unique story.
Palace visits and tours can be organized in the public relations office. Take this opportunity to see the home of all Peruvian presidents!
Cathedral entrance costs 10 soles (about $3.20 USD) and is open:
Monday – Friday: 9 AM – 5 PM
Saturdays: 10 AM – 1 PM
Sundays: closed
Santo Domingo Church and Convent
The convent of Santo Domingo is an architectural jewel. For all you avid readers out there, this holy edifice houses one of the most complete libraries in all the world. For me, that's the definition of wonderland!
There are also catacombs under the church, and they're considered to be the biggest and best preserved on the entire South American continent. These crypts are part of an underground network of passages linking the main Cathedral of Lima with other convents in the historical center. So take a walk past 10-meter-deep wells full of human skulls and other bones. Femurs, humeruses and phalanges, oh my!
Alameda Chabuca Granda
What do you think of Peruvian music?
This artistic and cultural center was created to honor the Peruvian singer-songwriter of the same name who was well-known for her creole music. As a prize for your visit, you'll be rewarded with a viewpoint overlooking the vibrant city. This park is usually buzzing with activity as it is home to artisan fairs, food festivals, concerts, and other social events. Jump right in and join the party!
2. Paragliding
Now is the time to fulfill your dream of paragliding in Lima! You can find this adventure sport in 5 places:
Miraflores
Miraflores is one of two places to embark on your paragliding adventure within the city limits. As you glide over the ocean, you'll get an unparalleled view, as far as the eye can see, of the waves and the Costa Verde (Green Coast).
The Para-Port, specially built for take-off and landing of these daredevils, is at Raimondi Park (next to the Parque del Amor, or Park of Love).
Voyagers will enjoy soaring for 10 minutes long at up to 250 meters high.
San Cristobal Hill
Get a new perspective on the Historic Center of Lima when you fly from San Cristobal Hill! This superb location, in the district of Rimac, has become the crowd favorite for paragliders from around the world due to its great height, excellent geographical location and history.
Lurin
If you'd like to go it alone in the air, you can head 40 minutes outside of the city to Lurin. There, it's a distinct scenery of sand dunes, and flyers practice all year long. If you fall out of the sky, at least you'll have a soft landing!
The flight will be 5 minutes long at a height of up to 50 meters.
Gliders can fly with or without a guide, depending on experience and comfort level.
Pachacamac
At kilometer 35 to the south of Lima, you'll get the chance of a lifetime to fly high up to 1000 meters! Here, best from November to April, you can carry out a thermodynamic paragliding experience, if you dare!
Pasamayo
If one wasn't enough, here's yet another opportunity to soar up to 1000 meters, and even higher this time! This shot at a dynamic flight is an hour and a half from Lima at kilometer 55 on the North Panamerican Highway.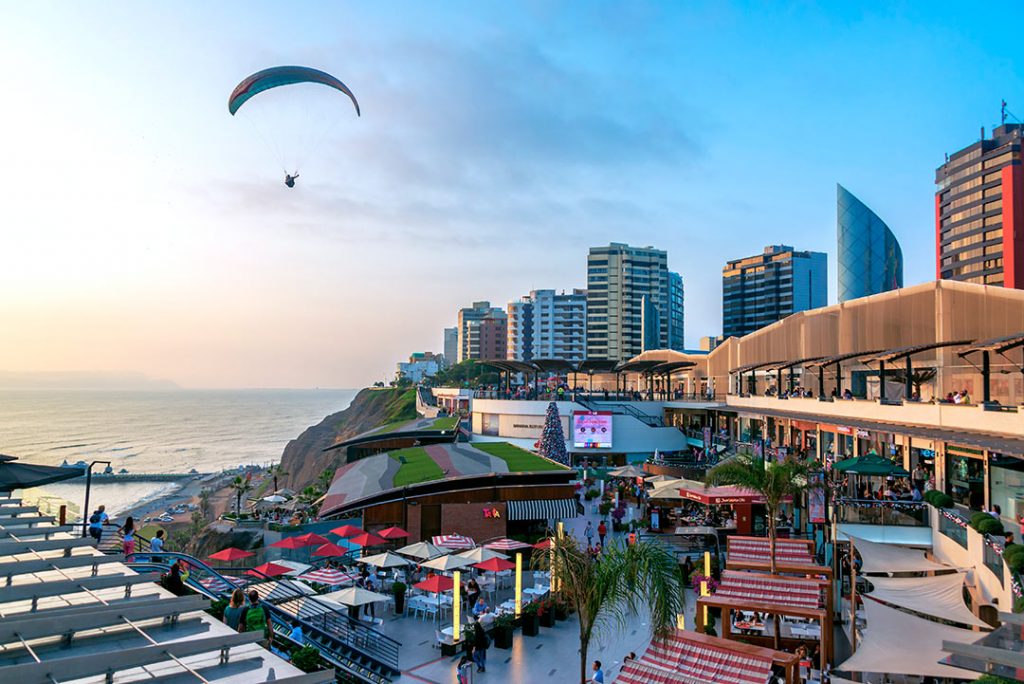 3. Barranco District
The district of Barranco is known and loved as the whimsical, young, fun and exciting district of Lima, and with good reason! The British Magazine Time Out calls it one of the most hipster neighborhoods in the world. You will not be bored and definitely not disappointed by spending your time in this quirky community. Here's how to do it:
The Bridge of Sighs
This charming, wooden bridge, built in 1876, is the place to go for a romantic moment with your partner. Make a wish! As the legend goes, just hold your breath as you cross the bridge, and it will come true. Be careful what you wish for!
To continue this amorous outing, head under the bridge to any of the bars, cafes or restaurants housed there, and then keep walking down this picturesque path to cross a bridge leading you merrily to the beaches of the Costa Verde. Take your time to fully enjoy, together, a spectacular vista of the Pacific Ocean from this viewpoint.
Museums
Barranco is a district doused in culture, so don't skip over its museums! They give you the opportunity to participate in collective activities, savor photographic exhibits and experience modern creativity in the contemporary art exhibits.
Here are the museums you can't miss: the Museum of Contemporary Art (MAC), the Pedro de Osma Museum, the Electricity Museum and the MATE Museum.
Walk along the Malecon
If you're looking for a pleasant and relaxing activity to get you back in touch with nature, take a stroll, bike ride or run along the Malecón de Barranco (its seaside boardwalk). Have a seat, and read a book, listen to music, write or chat with friends as you look out over the ocean.
Surfing
Did you know that Lima's beaches are great for learning to surf? Barranquito Beach and Los Yuyos Beach are the perfect places to practice or take a lesson from the experts since the waters aren't too rough. Don't be afraid to try something new when the opportunity pops up!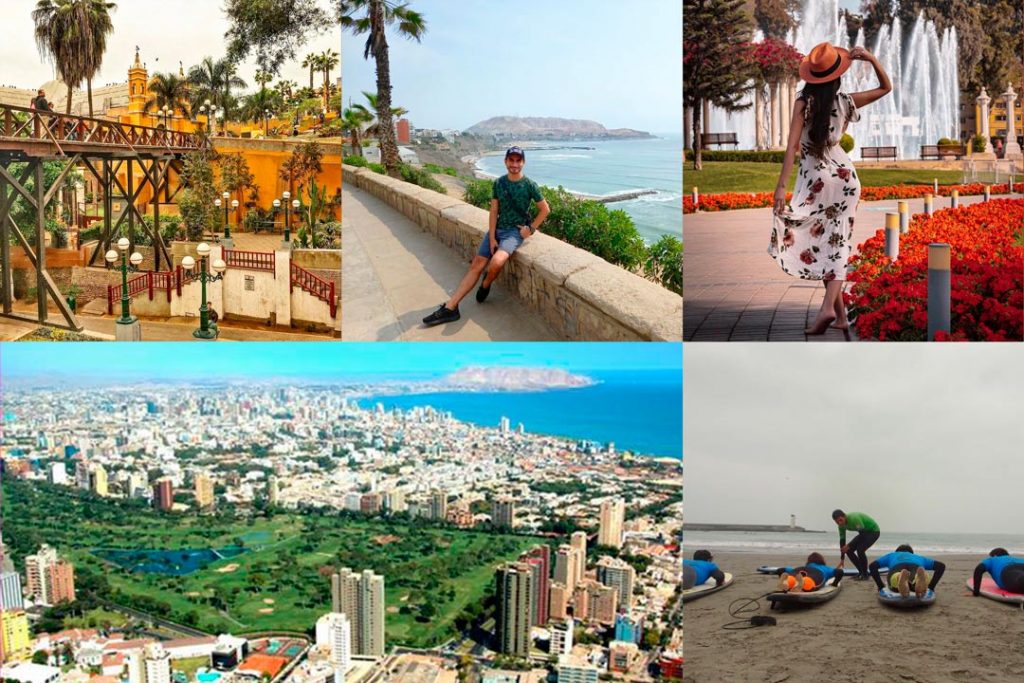 4. Swim with Sea Lions in the Palomino Islands
Like I said, Lima has something for everyone. This one's for lover of animals and nature. Leaving from one of the main ports of Latin America, the Port of Callao, you can take a tour lasting about 4 hours to have a meet and greet with these endearing creatures.
As these waters are quite cold, your guide will provide jackets and neoprene wetsuits and then take you, by boat, past the islands of San Lorenzo, El Frontón and Cabinzas. Along the way, you'll have a close-up encounter with Humbolt penguins, sea lions and coastal birds that will, surely, approach your boat when they see it!
Enjoy your trip, assured that this is an eco-friendly activity, consciously and respectfully operated; it's approved by the National Service of Natural Protected Areas of Peru.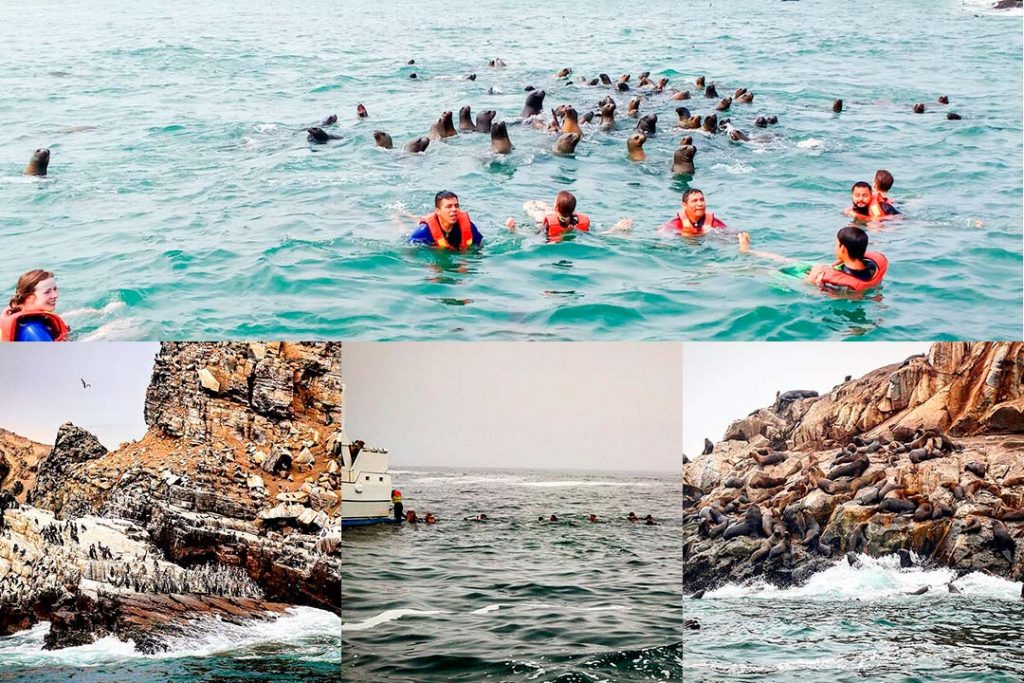 5. Parque de la Reserva
For only 4 soles (about $1.00), you can enjoy a magical night of dancing water, lights and music unlike anything else you'll do in Peru. Treat yourself to this astonishing show in which thirteen cybernetic fountains whirl, pirouette and sway as if they had a life of their own!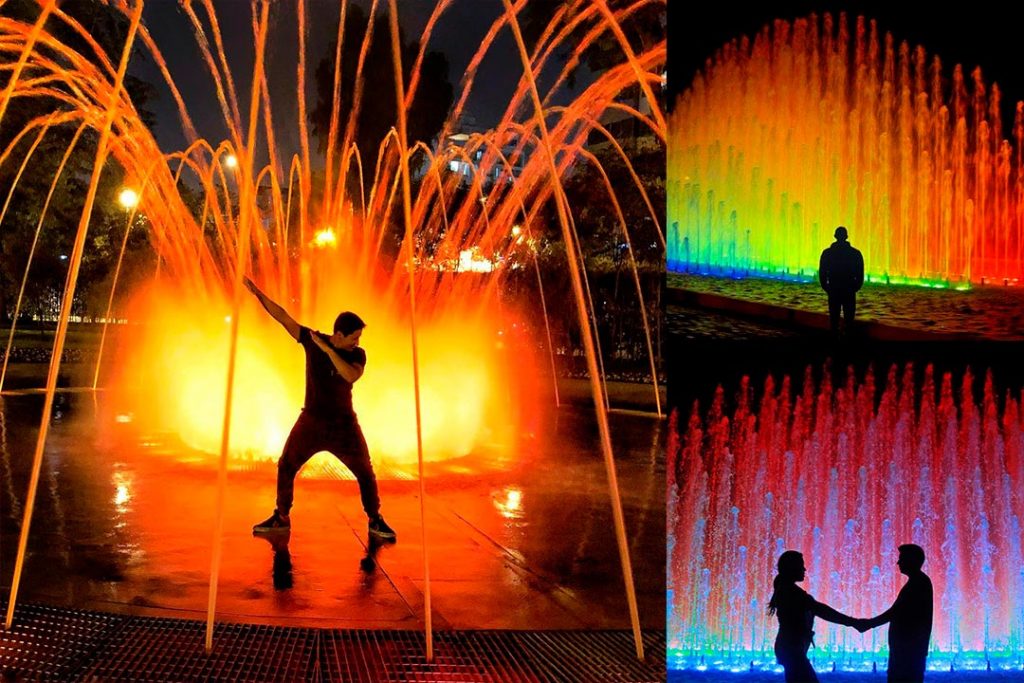 6. Miraflores District
The district of Miraflores is extraordinary! This part of town is a mixture between historical and imaginative, casual and sophisticated, classic and modern. You don't have to be a resident of this up-scale community to relax in its tranquil atmosphere.
Parque del Amor (Park of Love)
This is a park dedicated to L-O-V-E. Who doesn't love, LOVE?! You'll be welcomed by a garden of flowers decorated with hearts. Take time to read the inspiring quotes written artfully into the colorful, mosaic walls of the park; they'll motivate you to seek the love we all need to give and receive in life. Take a seat and enjoy a beautiful ocean view with your love, your friends or yourself, and take a look at the central sculpture of the park called, "El Beso" (The Kiss) by Victor Delfin.
Kennedy Park (The Cat Park of Lima!)
This one-of-a-kind "Cat Park" in the heart of Miraflores is home to a family of cuddly cats cared for by a group of volunteers. They're looking for fur-ever families! This big green area of gardens and trees is their playground until that day. Most are friendly, so give 'em some love!
Huaca Pucllana
Lima has its archeological sites, too. Before the contemporary population of today's Lima, an ancient culture flourished here, in this place. Visit Huaca Pucllana to see a peculiar adobe pyramid and ponder its curious construction.
If you're able, visit the luxurious restaurant on the premises; its income is dedicated to funding research and excavation of this important cultural site.
Larcomar
The Larcomar shopping center is unlike any other, located on the cliffs of the Costa Verde, overlooking the sea. Of course, it's one of the busiest places in the city. Here, you'll find restaurants, boutiques, theaters and nightclubs with an exclusive landscape of the sea and Lima cliffs.
7. Parque El Olivar (Olive Park)
Always save the best for last! Located in the district of San Isidro, the Parque El Olivar, dating from the colonial period, was declared a National Monument of Peru in 1959. This peaceful park is unique in that the more than 1500 trees filling its 10 acres are olive trees! Three of them were part of the original first shipment of olive trees imported to Peru in 1560.
Within its grounds, you'll also find the Municipal Library, the Cultural Center of San Isidro and the Museum of Marina Nuñez del Prado. Whether you're walking, running, biking, reading, writing, thinking or dreaming along its paths and ponds, the positive vibes of this place will surely impact you in an energetic way. Entrance is free.
In Conclusion…
Lima is a dynamic and entertaining city. You'll find new things to see and different experiences to have every time you visit. To go anywhere in Peru, you almost always pass through Lima. Now that you know what Lima has to offer, don't take this stop for granted; stay a while, and live like a king (or queen)!
---
Best things to see and do
,
Historic centre Lima
,
Huaca Pucllana
,
Kennedy Park
,
Larcomar
,
Lima
,
Love
,
Magic Water
,
Main square Lima
,
Miraflores District
,
Paragliding
,
Park
,
Peru
,
Salkantay Trekking
,
Sea Lions
,
swim
---
You might also like
---